By: Hilary Parker
Ask any of E.I. Medical Imaging's customers and they'll tell you that they would never go back to palpating after bringing the IBEX reproductive ultrasound tool on board. Not only is palpating hard on their body and far less accurate, it also doesn't give them all of the information that the IBEX can provide.
Dairying is an industry with a tight enough margin; producers need all of the help they can get to maintain a profit. That's what the IBEX does best: It gives them the information they need to make decisions that affect their bottom line.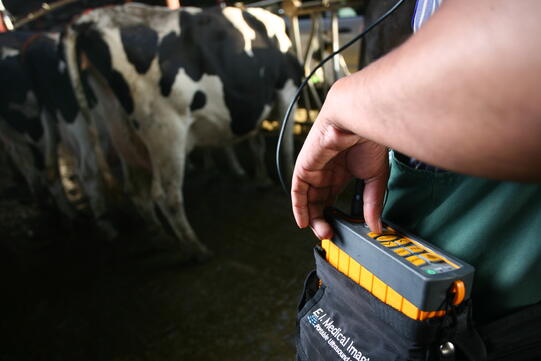 In addition to bovine ultrasound pregnancy and timed breeding checks, veterinarians and producers rely on the IBEX to diagnose abdominal abnormalities. This means they can better time their artificial insemination round based on whether and when the animal is open. It also allows them to identify those animals that are not suited for breeding, saving time, money and effort. And the IBEX allows vets and producers to identify the stages of pregnancy each animal is experiencing — whether in the barn or in the field. But the machine's ruggedness, long battery life and well-thought-out accessories are what separate the IBEX and IBEX Lite from the competition.
Simply put, the IBEX's cow ultrasounds provide vets and producers with the information they need to troubleshoot management issues that affect animal health — and, ultimately, a higher conception rate and stronger bottom line.
If you're currently using an IBEX, please leave a story below about the time and money it has saved you, your clients or your operation!