We have been running what some of us have been calling the Black Friday/Cyber-Monday/Ibex Orange Holiday Special now since November 25. We have been very busy here with year end inventory counting, with attending the AAEP and just generally trying to stay on top of things during the holidays. Originally we wanted to run this sale through the close of business on Friday, December 13, 2013.
As our holiday gift to you we are extending the sale 1 week through December 20, 2013. This gives us additional time to catch up on handling demos of our portable ultrasound systems, getting back to the customers that have been trying to reach us, and we can catch up on our holiday shopping lists! This also gives you additional time to make arrangements for your purchase terms, allows you a few more days to make your decision on purchasing a system and allows the rest of the procrastinators like me to put off things for a day or two!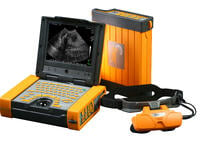 We have looked over our stock and of inventory since it is all counted now, and we believe that if you purchase your system through and including up to December 20, 2013 we can make sure you have your Ibex® Portable Ultrasound System in service before December 31, 2013. Remember the Section 179 Tax Savings I mentioned in the last post? More on that sooner than later.
Have a great weekend and let us know if there is anything we can do to answer a question, to provide you information or perhaps what you want to get in your stocking for Christmas?
Either way, Happy Holidays from all of us here at E.I. Medical Imaging.
Photo courtesty of SimplyBovine.com