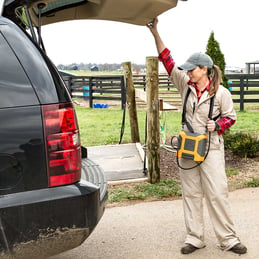 Many equine practitioners who have not come from a sport horse background can be intimidated by the thought of imaging the superficial and deep digital flexor tendons and the suspensory ligament. Getting comfortable with ultrasounding these structures can help you to pay off your equipment faster and provide an important diagnostic option for your clients.
Tips for good, consistent results!
Use a transducer designed for tendon imaging. These probes are higher frequency (and therefore offer finer detail) than a linear rectal probe, for example. The footprint, or size of the imaging window of the transducer, is also smaller, so the structure takes up a larger portion of the monitor. In addition, a tendon probe is ergonomically designed to make tendon imaging easier. A standoff is useful when evaluating more superficial structures, but is not necessarily required for obtaining a good suspensory image.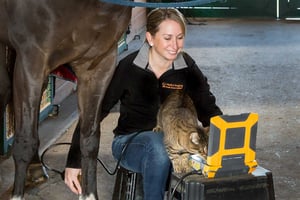 Develop a consistent system. There are several "zone" systems out there; what is important is that you use the same method every time so that you know what your labeling means when archived images are recalled.
Always image distal limbs in two planes, and always image bilaterally. Because tendon areas, for example, will differ among animals of various sizes, the best way to judge pathology in one limb is to compare it with the contralateral one. Save images in longitudinal and cross sections, and label them accurately with zone, measurements, and date.