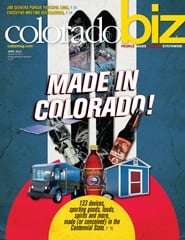 Made in Colorado: Medical devices and scientific instruments

By Mike Taylor
E.I. Medical Imaging's Portable Ultrasound Systems for Animals
Loveland
www.eimedical.com

Loveland-based E.I. Medical Imaging designs and makes portable, ruggedized ultrasound systems used on animals in all 50 states and 12 countries.
"We are unique in the fact that we are the only company in the U.S. that engineers and manufactures ultrasound specifically for veterinary use," says Charles Maloy, the company's president.
E.I. Medical Imaging's systems have been used in extremes ranging from sub-Saharan Africa to the Arctic to dairies in Colorado. The devices have been used to monitor pregnancies in all varieties of farm animals, to examine tendons in horses, and by the Turtle Conservancy in Southern California to document the reproductive physiology of some of the world's most endangered turtle species, to name just a few of the applications.
E.I. Medical Imaging also makes video headsets that allow the user to see the ultrasound image displayed in the eyeglasses they wear, in any light conditions.
The company was founded in 1984, originally targeting swine reproduction.
Click here to read more!