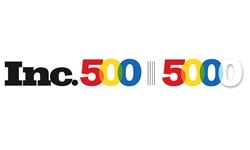 E.I. Medical Imaging Named to Inc. Magazine 500 | 5000 List of Fastest Growing Private Companies
FOR IMMEDIATE RELEASE
LOVELAND, Colorado, September 13, 2012-
E.I. Medical Imaging
(EIMI), a worldwide leader in portable ultrasound systems for veterinary use announced today that they have been named to the
2012 Inc. Magazine 500 | 5000 list of America's Fastest Growing Private Companies.
Placed at # 1056 on Inc. Magazine's 500 | 5000 list, E.I. Medical Imaging ranks in the top 100 among private Healthcare companies in the United States in terms of three-year growth.
The Inc. 500 | 5000 was originally introduced by Inc. Magazine in 1982. The list is compiled according to percentage revenue growth over a three-year period. Companies must be independent, privately held and based in the United States in order to qualify for selection.
"Being named to such a prestigious list is a testament to our employees and customers alike. This past year we have made significant improvements to our company including receiving our
ISO 9001 certification
and addition of a dedicated Quality Management position. We have expanded our manufacturing facilities and added new employees as well as growing our international distribution network. E.I. Medical Imaging is proud to be named to this list with such distinguished alumni as Zappos, Patagonia, Oracle and Under Armour. ". " Says EIMI President Charles Maloy.
If you have questions, feel free to contact E.I. Medical Imaging at info@eimedical.com.
Copyright© 2012 E.I. Medical Imaging. All rights reserved. All company and/or product names, trademarks and registered trademarks are the property of E.I. Medical Imaging. Features, pricing, availability, and specifications are subject to change without notice.
Posted on: 09/13/12 Posted by: E.I. Medical Imaging Category: Press Release