One of the many things I like about our company is the fact that from the top down everyone here at E.I. Medical Imaging enjoys working to help our fellow man. One of the veterinarians we are helping is Kelly Crowdis, DVM. Dr. Crowdis is doing some amazing work in Haiti. I had a chance to sit down and speak with Dr. Crowdis in Milwaukee at the AABP show in the fall of last year. I was very impressed by Dr. Crowdis' work and we wish her great success in the future.
We were recently provided a picture of E.I. Medical Imaging's donation of a portable ultrasound maching in action in Haiti with a senior veterinary student Amanda Weakly performing a diagnotic check of a doe in Haiti. I hope to catch up again with Dr. Crowdis to get an update on her efforts in Haiti. To find out more about their organization you can visit their website at CVMUSA.org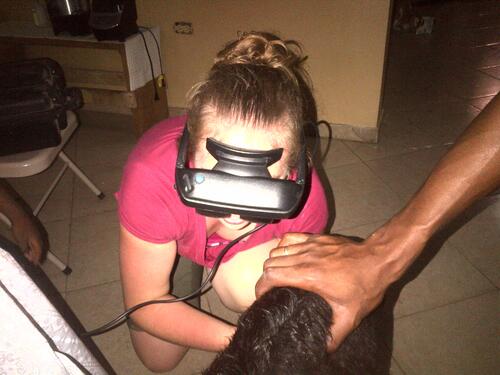 If you want further information from us on how you can use the E.I. Medical Imaging family of Ibex® Portable Ultrasound Systems feel free to contact us for a free demonstration.