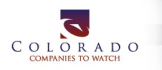 FOR IMMEDIATE RELEASE
LOVELAND, Colorado, April 14, 2010- E.I. Medical Imaging, a worldwide leader in portable ultrasound systems for veterinary use announced it was named as a Colorado Companies To Watch award winner. Colorado Companies to Watch attracted over 420 nominees, with a field of 100 companies selected as finalists. E.I. Medical Imaging was one of 50 companies announced as a winner of the 2010 class of Colorado Companies to Watch.
"We are very honored to be recognized as a Colorado Company to Watch," says E.I. Medical Imaging President, Charles Maloy. "We are certainly proud of the impact EIMI is having on the local economy and the partnerships we have developed with our local community. In the ever increasing world of the off-shoring of manufacturing and electronics development, we are proud of the fact that we engineer and manufacture high- end medical diagnostic equipment right here in Colorado"
Colorado Companies to Watch is hosted by the Colorado Office of Economic Development and International Trade in partnership with the Edward Lowe Foundation to recognize second-stage companies that are developing new industry throughout the state. Typically these companies possess such characteristics as being growth focused, privately-held, headquartered in Colorado, 6-99 full-time employees and feature $750,000 to $50 million in annual sales. This program will allow the state of Colorado to recognize its trend setting leaders that help strengthen the state's economy.
A gala celebration honoring this year's Colorado Companies to Watch companies will be held on June 18, 2010, at the Marriott City Center in Denver. Please visit www.Colorado.CompaniesToWatch.org for event information to be posted soon and contact COCTW@lowe.org with additional questions.
About E.I. Medical Imaging
E.I. Medical Imaging was founded in 1984 based on the singular vision of developing state-of-the-art, portable, durable ultrasound systems to serve veterinarians and livestock producers world-wide. Over the company's 26-year history, E.I. Medical Imaging products have evolved with the needs of the market. We are proud to be the only manufacturer of portable ultrasound systems engineered and developed in the United States specifically for the animal industry. If you have questions, feel free to contact E.I. Medical Imaging at info@eimedical.com.
Copyright© 2010 E.I. Medical Imaging. All rights reserved. All company and/or product names, trademarks and registered trademarks are the property of E.I. Medical Imaging. Features, pricing, availability, and specifications are subject to change without notice.