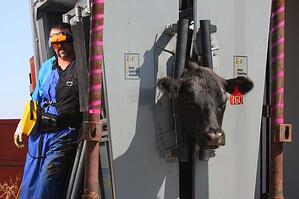 I am an avid reader of Bovine Magazine, okay I have a confession, I am not a hard copy magazine guy as I like to get my news and information in the digital world using my phone or tablet. We pay very close attention to what is happening in the bovine veterinary world as a large portion of our target demographic comes from the bovine veterinary market. In fact, we currently have a campaign to help the veterinarian with their practice in the bovine market in both the beef and dairy segments. Our campaign is about, "Helping your practice makes perfect sense." We feel a responsibility to help the veterinarian with their everyday practice to insure they are getting the most from our Ibex® Portable Ultrasound System.
In a recent article produced by Dave Sparks, DVM of the Oklahoma State University Extension, he brings up why food animal veterinarians should be pregnancy checking their herds now instead of waiting later. His points I want to highlight include the following:
Far too many small to midsized cattle producers are saving pennies by not pregnancy testing while wasting dollars by not knowing which cows are open.

The old standby for pregnancy checking is rectal palpation. In this procedure the veterinarian enters through the rectum and palpates the reproductive tract through the rectal wall.

Ultrasound will detect earlier pregnancies than most operators can detect confidently by rectal palpation and also may show pathological conditions that rectal palpation may miss. (emphasis added)


A disadvantage is that it will take several days to be notified of the results so you probably will need to re-gather the cows to sort off the open ones. Another disadvantage is that it only tells you if the cow is pregnant or open and gives no indication of how far along the pregnancy is. Rectal palpation and ultrasound will indicate fairly closely what stage of pregnancy the cow is in. (emphasis added)

For obvious reasons we would love all producers to be pregnancy checking their herds using the ultrasound method instead of using either the palpation method or using the blood test method.
Addressing each point above I can say that the first of his points is a common sense approach to handling your herd. Anytime you are not pregnancy checking your herd, you are rolling the dice as to whether your cows are open. Spending money on cows that are open and will not be producing a return on investment is a gamble. I should point out however that it is a cost and one that has to be weighed with all the other factors of managing the herd for the best return.
In point two, I thought it important that we address the idea that rectal palpation has a very similar procedure to ultrasound. An ultrasound has the same rectal entry point that requires a veterinarian to check using their arm, but by using the Ibex® Customizable Extension (I.C.E.) handle, an "arm free" accessory, the procedure could be less invasive. The veterinarian saves wear and tear on the cow and more importantly perhaps, their arm.
In the third idea I have added some emphasis on the point that ultrasound shows some fairly significant differences to rectal palpation that are very important. An example of a difference would be whether the fetus is a viable fetus. There are many chances to misdiagnose a pregnant cow using palpation when palpation or feeling a viable fetus is not usually possible by just feel. It is tough to feel a heartbeat. Other abnormalities of a fetus, that may not be seen from palpation and only on ultrasound, may be missed and the pregnancy may turn out to be incorrect. In this instance seeing is believing.
In the final point, I have added emphasis to the idea that blood testing cows appears to be a cumbersome and time consuming process. Time is not always the friend of the producer and something that needs to be weighed into the herd management plan. The last emphasis in the final point is on the idea that blood testing cannot show at what stage the pregnancy is in or the gestation of the cow. This may be an important factor in the management of the herd. And it should also be noted that blood testing cows does not take into account false positives of cows that may have a fetus that is not viable or has an abnormality. This is something that needs to be addressed in the decision making process.
It appears that Dr. Sparks would have us believe that using ultrasound for pregnancy checking cows is cost prohibitive to the producers and that this method might be too expensive hurting the bottom line for the management of the herd. It was pointed out that regions and pricing varies, and we have not collected enough data to make a pronouncement of the costs involved in any of the processes mentioned. This is something that veterinarians and their clients should discuss. It may be that palpation and ultrasound are about the same price, making more sense to go with ultrasound. The cost of blood testing appears to be less but by the time you add all the added process and the cost of shipping and waiting, I think it is a costly and not an exact process with a good return on investment. Until blood testing is more of a contemporary test providing real time results it does not seem like the best choice.
Our recent campaign is to help veterinarians and their practice. To us this makes perfect sense. We would love to have you contact us to determine if buying an ultrasound makes sense for you and your practice. Right now in the month of September we have a program that allows you to buy an Ibex® Portable Ultrasound at never before seen prices. If you are a producer, ask your veterinarian to use ultrasound on your herd. We want to help the veterinarian but we also want to help you!
Let us know, are you performing ultrasound, blood testing or palpating your herd? Are you pregnancy checking your herd this fall? If not, you might want to explore the opportunity to succeed.