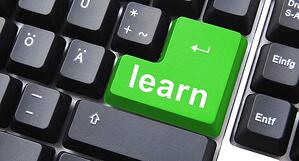 Businesses are having to change the way they do things to keep up with the digital world. We live in an age now where snail mail, print advertising, good old fashion face-to-face meetings and a handshake are a thing of the past. We continue to evolve in business with the invention of technology and how we conduct our day-to-day business transactions. At E.I. Medical Imaging, we are not much different in the way we approach our business. We too must adapt to the way of the future. We are using social media and technology to provide up to the minute information about our products and services. Our Ibex® Portable Ultrasound Systems' software can be updated with a few strokes of a keypad on your computer and online, and we have many other technologically advanced features too numerous for this post.
One of the things we intend to implement for the future of E.I. Medical Imaging and our Ibex® Family of Ultrasound Systems and accessories is education and training. It would be difficult to arrange a location where we could invite the hundreds and thousands of our customers and users to gather and allow us to prepare a lecture series and allow you the user to have hands on education and training of our device. We can do this on a small level and we would be happy to oblige this and will have these types of education training opportunities in the future. Right now there are a handful of companies that are trying to accomplish this, but it is an uphill battle and a costly endeavor. If you want to be trained in the use of ultrasound it is going to take an inordinate amount time, which we all know means money, and it will cost you dearly monetarily to attend. With the use of technology and the use of the digital world we can change the way you spend your time and your money.
At E.I. Medical Imaging we are currently working on a way to decrease your time and the money you spend to get the training you need to be successful in your practice as a veterinarian. This all falls in line with our idea that "Helping Your Practice Makes Perfect Sense." Stay tuned in here for future announcements about our education and training. We will soon have ways you can get the education and training you need for use of our equipment and a way to help you with your veterinary practice.
Of note and as a persuasive point to what I have discussed here, Dan Grooms, President of the AABP has his November message that has has provided. The message is provided via YouTube, a use of video I applaud. The message is simple about the fate of the Enyclopedia Britannica and how it failed to adapt to the evolving world. We as businesses should also learn to adapt. I hope the message is clear.