With all of the excitement around baby giraffes these days,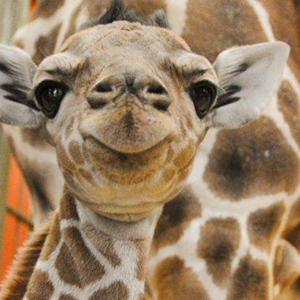 E.I. Medical Imaging (EIMI) is proud to announce that their EVO® ultrasound system was instrumental in determining the pregnancy of Denver Zoo's Kipele. With a complete team effort and some remote viewing technology, the keepers and veterinary staff from Denver Zoo were able to determine and confirm Kipele's pregnancy and prepare for the subsequent birth of baby Dobby.
Training a giraffe to come close to keepers for diagnostic procedures is no easy task. This took quite some effort and ingenuity on the part of the giraffe keeper staff. A dummy ultrasound unit was fabricated in order to get Kipele familiar with the procedure. Kipele became comfortable with the keepers and their "dummy" ultrasound, but not with the vet staff getting close. So keeper Karen Stern was able to use the EVO® ultrasound system to get an abdominal view of mom, while Amanda Faliano fed Kipele. Under the direction of the veterinary staff via radio, keepers were able to place the transducer on Kipele to see if she was carrying a calf. Utilizing EVOStream® remote viewing technology, doctors Gwen Jankowski and Anneke Moresco were able to view the ultrasound image remotely on an iPhone to confirm the pregnancy. "We were only able to see the umbilical cord, but that was enough to confirm [the pregnancy]. It was awesome," said Dr. Anneke Moresco of Denver Zoo.
This is not the first time E.I. Medical Imaging has partnered with Denver Zoo. "We are so pleased and proud to partner with Denver Zoo and welcome baby Dobby," said Charles Maloy, president of E.I. Medical Imaging. "Denver Zoo is a strong partner of ours and many of the features found in our new EVO system came as the result of input from our work with them. It is so exciting to see this equipment come full circle and be used at Denver Zoo to help their animals."