IBEX® EVO® II
The next generation of our flagship model, EVO® II offers: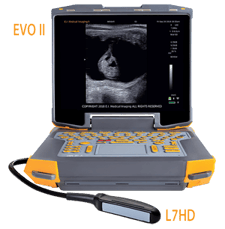 3x brighter display—a NIT rating of 1200 [original EVO® has a NIT rating 400].
The EVO® II supports the new L7HD transducer [see below].
Version 2.0 firmware—improved image quality and feature set.
EVO® II is the latest, most advanced model in the Ibex® family, with significantly better image resolution, color-flow Doppler, remote control, improved features and remote image-viewing apps. The EVO® II is ideal for equine and bovine practices, companion animal practices, zoos, and anyone demanding a high-quality image in a robust system.
Rugged, splash resistant, and highly portable, with a new line of variable frequency transducers, the EVO® II is ready to go wherever you need it most. Ibex® EVO® II also accommodates optional video headsets—perfect for viewing in bright sunlight or low light situations.
IMPROVED IMAGE QUALITY
With four times the processing power as the Pro and Lite, Ibex® EVO® II provides image quality never before seen in a rugged, portable ultrasound. Improved image quality will allow the user faster and more accurate exams for any species.
At just under seven pounds, Ibex® EVO® II is designed to go anywhere, from the exam table in the clinic to cage-side to field and barn. With field-swappable batteries you will no longer need to worry about the closest outlet.
Engineered with DuraScan® technology, with both sealed keyboards and probe connections, Ibex® EVO® II can go anywhere your work takes you. For additional detail, click here...
L7HD
Our latest high-definition probe: