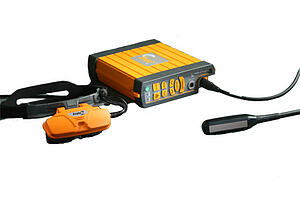 E.I. Medical Imaging is proud to announce its donation of an Ibex® Portable Ultrasound System for the Amstutz Auction of the American Association of Bovine Practitioners' Amstutz Scholarship. The Amstutz Scholarship committee will be sponsoring the benefit auction at the 2013 AABP conference on Friday, September 20, 2013. All proceeds from this auction will go towards further enhancing the premier student scholarship program of the AABP.
"The student auction at the AABP Annual Conference is the main way we grow our endowment and secure the long term future of the program. The scholarships it supports are the premier student scholarships offered by the American Association of Bovine Practitioners, and it remains our number one way to highlight a career path in bovine veterinary medicine to veterinary students", says Jim Floyd, DVM, Chairman of the Amstutz Student Scholarship Committee.
E.I. Medical Imaging's
Ibex® Lite Portable Ultrasound System
has a retail price in excess of $12,000. The system includes the ultrasound unit, a reproductive linear probe and the Insite2® headset. The unit is one of the more popular portable ultrasound units among all veterinary practitioners.
"It is our hope that this will help the Amstutz Scholarship committee in their funding of bovine practitioners of the future. Many of practicing veterinarians use our Ibex® Portable Ultrasound Systems and we continue to be very active in colleges and universities across the country. Most of the schools in the United States have our systems and use them in their teaching and curriculum" says Chas Maloy, President of E.I. Medical Imaging.
To attend the AABP Conference, you can register at the event in Milwaukee.
All AABP members can bid
on the item in the auction by visiting the website and entering their member number and their bid amount.