1...Obtain the best image possible.
Take the time to completely evacuate the rectum, and use plenty of lube for contact. If your ultrasound system provides variable frequency transducers, remember to operate at the highest frequency that still allows you enough depth to visualize all the pertinent structures; this will optimize the resolution of your image! You'll acquire a higher quality (and larger!) ovary image scanning at 6cm than you will at 12cm. In addition, become familiar with your equipment; experiment with gain, contrast, and persistence in order to achieve the image that you desire.
2...Develop a system and be consistent.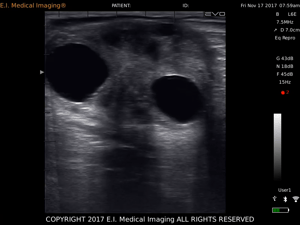 For example, if you tend to start at the left ovary, be sure to visualize the entire left horn, the uterine bifurcation, and the entire right horn as you make your way to the right ovary. On your way out, sweep from side to side, feeling confident that you have observed the entire body of the uterus. Don't get in the habit of locating a pregnancy and aborting the rest of the exam; you can only confidently rule out twins or pathology if you know that you have carefully inspected the entire reproductive tract. Image: IBEX EVO + L6E transducer, equine ovary
3...Take necessary measures to stay safe.
Maiden mares in particular can be extremely tense during a rectal exam, which can be dangerous for everyone involved. In addition to the threat posed to your own safety, a mare who moves excessively and has increased muscle tone is at higher risk of rectal perforation. Don't be afraid to use sedatives to quiet an anxious mare, or a spasmolytic such as Buscopan to reduce smooth muscle contractions and facilitate palpation. The image you achieve will be more diagnostic, and both you and the horse will be under less stress.