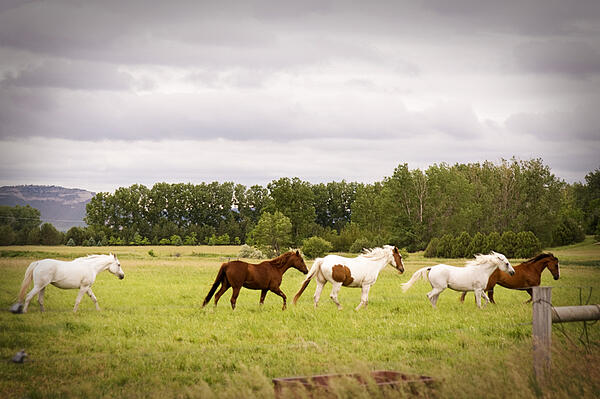 With equine breeding season officially underway, you may be finding yourself re-evaluating your equipment. Technology changes at lightning speed, and it's certainly possible that the reliable old ultrasound you've been using for years is just pretty darn obsolete now. While many factors must be considered in the search for a new one, I'd like to take a minute to talk about portability.
Can you do this with your ultrasound?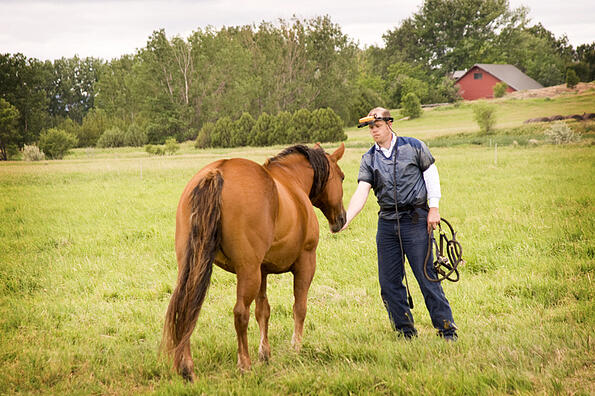 Dr. Skavdahal demonstrates the portable IBEX® Ultrasound in a pouch around his waist and hands-free imaging headset glasses used to view the image in sunlight situations. Dr Skavdahal walked right into a pasture of passive broodmares to perform a pregnancy diagnosis ultrasound.
Anything with the capacity to be moved might be considered portable, really. Many of the "portable" ultrasound systems from a decade ago, for example, weigh upwards of 30 pounds! Now I don't know about you, but lugging that thing stall to stall and barn to barn does not sound like fun to me. Furthermore, it's doing nothing for your practice in terms of efficiency.
That machine takes up a lot of room in your truck and is probably sitting alongside dozens of feet of extension cord as well. While battery-powered systems are much more common these days, remember that not all batteries are created equal. Consider charge life, ask about the number of charge cycles that the battery is rated to, and investigate any memory and cold-weather issues.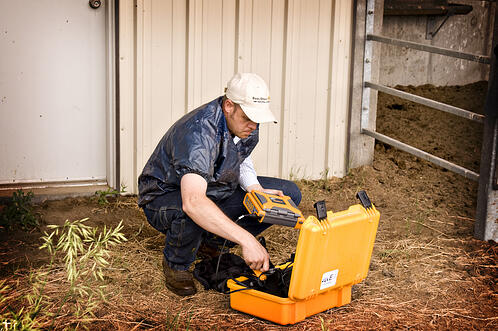 And how about mobility and self-containment? Are you able to function adequately during a late night emergency with limited barn help and no technician?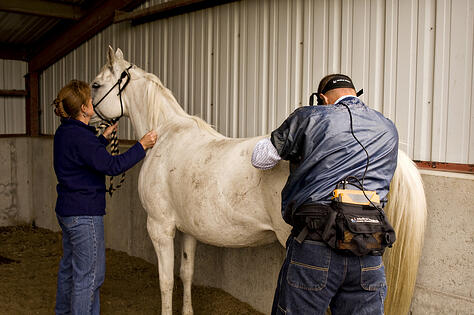 And what good is portable if your small ultrasound has poor resolution, is extremely fragile, and isn't backed by a reputable company with a history of exquisite service?
What to consider when shopping for a portable ultrasound
1. Quality. Image quality, transducer quality, features and functions of a system should be considered before purchasing. Don't get "over-sold" on features that are not used in your business but concentrate on the things that are most important to you and your clients. However new systems have software upgrades that can allow your equipment to grow with you when the time is right.
2. Durability. A portable ultrasound system will go through the rigors of multiple environments so a system built to withstand moisture, dust and shock is important to consider.
3. Service & Warranty. Be sure that the system is manufactured from a reputable company that stands behind the product and will be in business to repair and service your equipment for years to come. It is true that you get what you pay for and a few extra dollars at the time of purchase can be a smart investment over many years.

This is true portability.
The Ibex® portable ultrasound is the very definition of portable. With the Pro model weighing in at 5.7 pounds with the battery installed, it is among the lightest machines on the market. It boasts a long and reliable battery life and performs well in the cold. It has been designed to be worn on the body OR placed on a tabletop, thereby reducing the amount of help or the number of people required for many of your exams. The Ibex® is water-, dust-, and impact-resistant, has an outstanding image quality, and is proudly offered by E.I. Medical Imaging, the only manufacturer of veterinary-exclusive portable ultrasounds in the United States for over 28 years.