E.I. Medical Imaging's staff veterinarian, Dr Erika Wierman, got an experience of a lifetime a few weeks ago.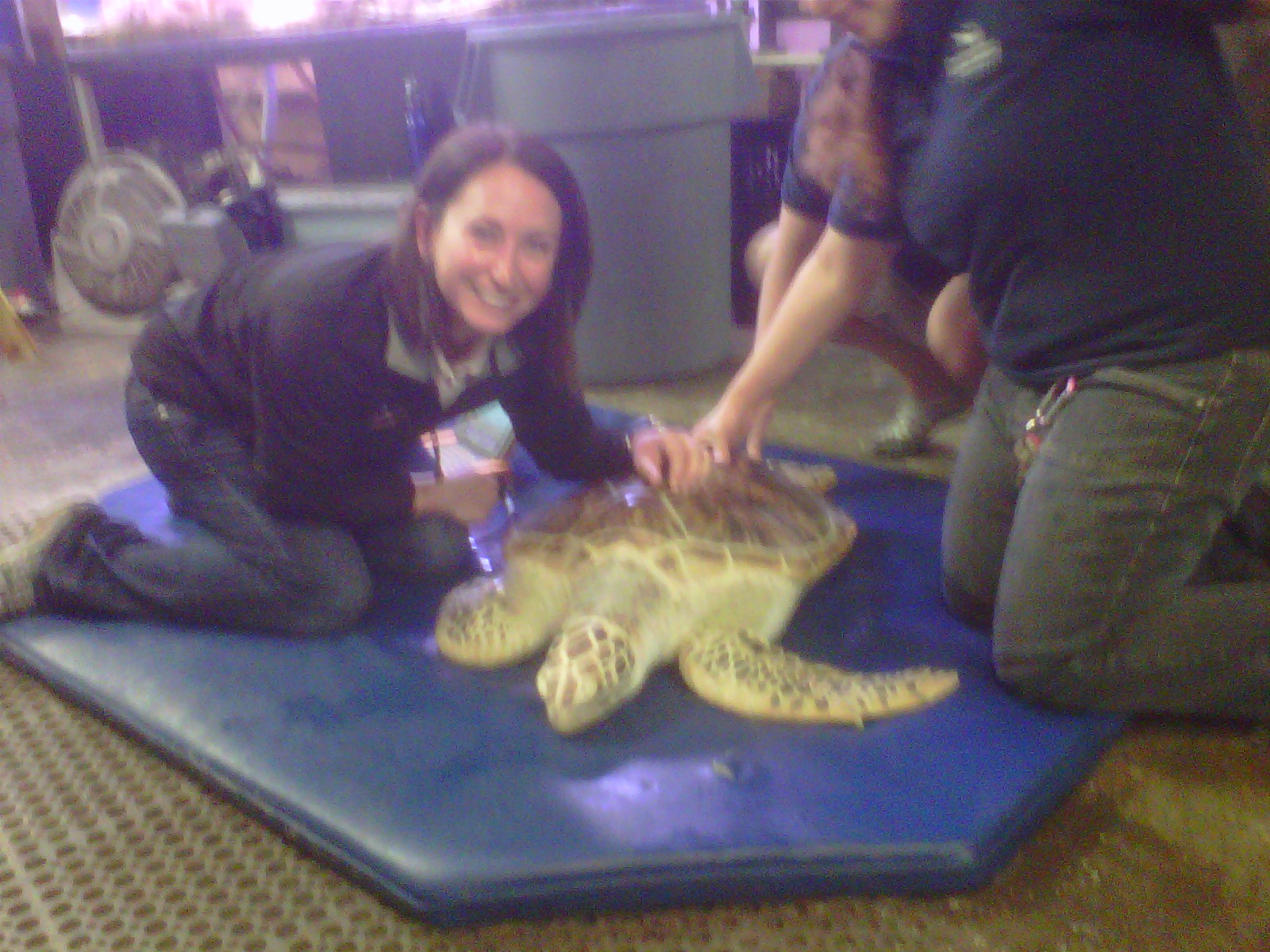 These photographs were taken during a live demonstration at the Maritime Aquarium in Norwalk, Connecticut. We took the opportunity to examine various aquatic species, including these sea turtles, terrapins, and cow-nosed rays. The Ibex Pro was ideal for these applications due to its highly water-resistant construction and ease of portability.
5 Advantages of the IBEX® portable ultrasound for Aquatic and Marine Animals
1) Water resistance- The Ibex® ultrasound is water resistant making it a real asset when working with aquatic and marine animals. You can focus on the diagnostics of the animal and not have to worry about splashing water on the equipment. No need to cover it with plastic trying to protect it from splashes and boy, does that make clean up so easy too!
2) Portability- The Ibex® ultrasound is less than 5 lbs and comes with a convenient waist pouch and shoulder strap options for wearing the system right on your body. So no matter if the environment is in an aquarium or on a boat, this portable ultrasound system will not weigh you down like other equipment.
3) Battery life- The Ibex® ultrasound has a lithium rechargeable battery. Say goodbye to troublesome extension cords, worrying about trying to find power outlets in remote locations and short battery life. The Ibex's batter runs for 5+ hours!
4) Monitor Goggles- The Ibex® comes standard with monitor glasses on both the Ibex® Pro and Ibex® Lite. The InSite2™ glasses show the image large and clear even in sunlight situations. They feature brightness and contrast controls and "flip up" out of the way when you need a clear line of sight.
5) Memory- still images and video cine loop- The Ibex® ultrasound lets you easily save and store images and video. You can easily label and measure right on the system or even use the "voice tag" feature which records a voice message with the image! Never has it been so easy!
These are just a few of the advantages that make the Ibex® portable ultrasound so well suited for aquatic and marine animal ultrasound. For more information, contact E.I. Medical Imaging today!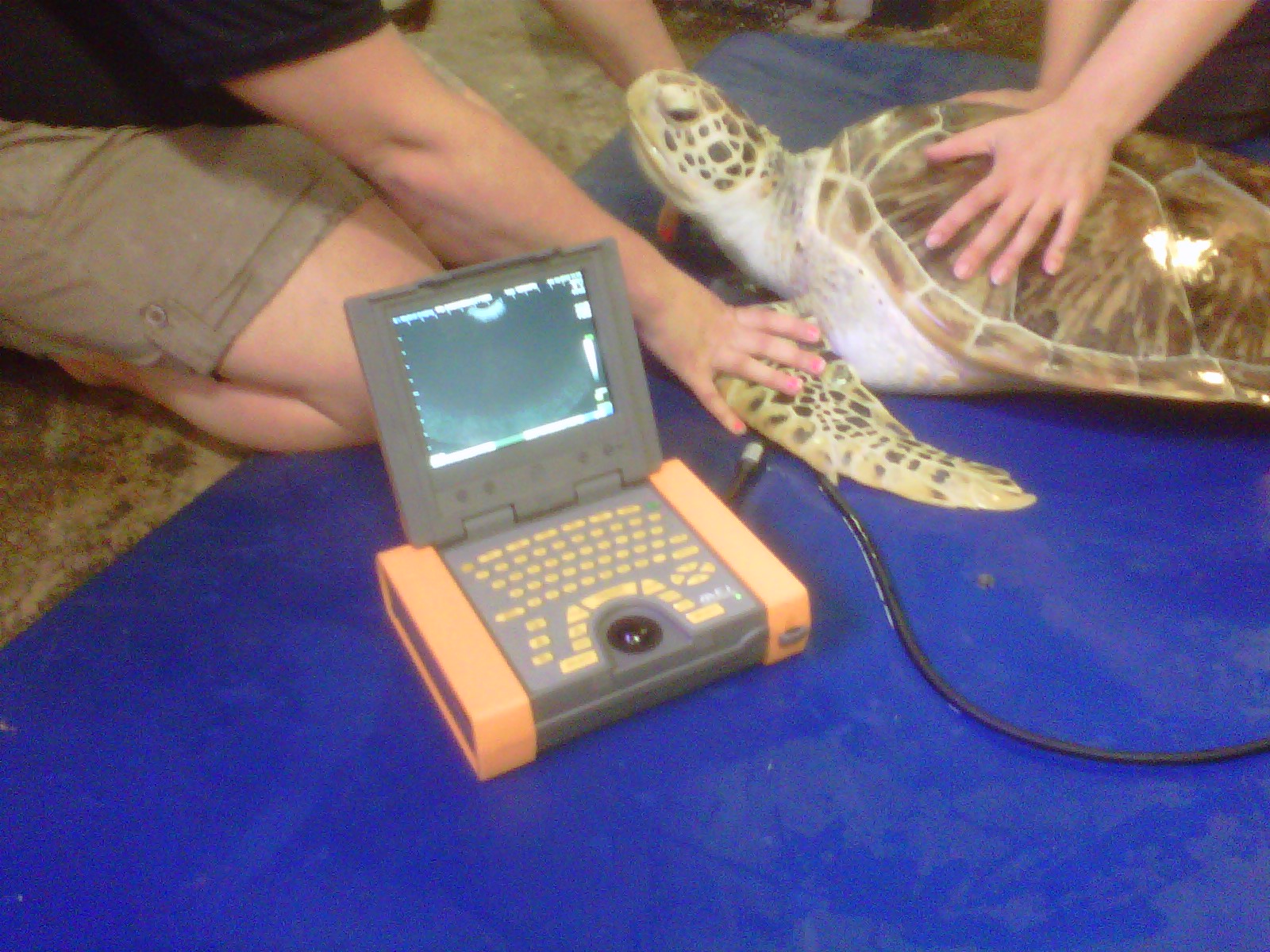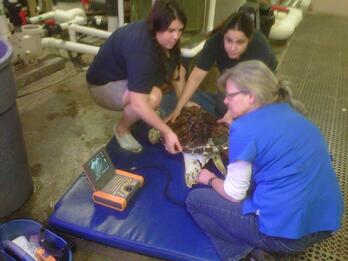 This IBEX video shows a Cow Nosed Ray, Gills
This IBEX video shows a Cow Nosed Ray shows the heart and gills
This IBEX video shows a Cow Nosed Ray shows the spiral colon
Thank you to Dr. Erika Wierman and the Maritime Aquarium for sharing these images with us. No matter if you ultrasound cows, horses, goats or sheep, we hope that you enjoy seeing the WILD side of animal ultrasound.



Would you take YOUR ultrasound into the ocean to ultrasound sea animals?