By: Susan Hoffman
"What am I Seeing?" Explaining an Ultrasound Image to Your Equine Clients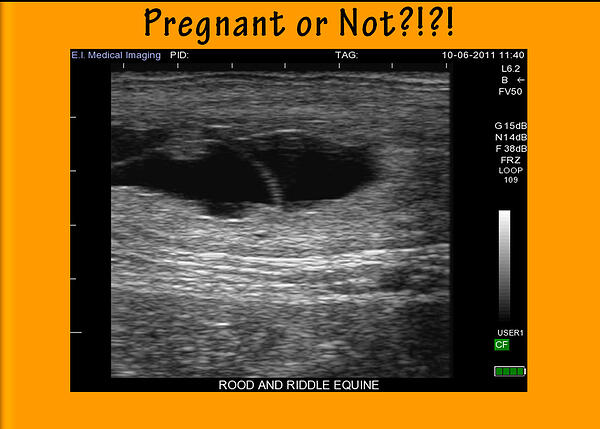 As an equine veterinarian, you're trained to understand what you see on an ultrasound machine, but your equine client may be baffled by the images. They may not even know what ultrasound imaging actually is or does, or its value as a diagnostic tool. We asked E. I. Medical Imaging's Dr. Erika Wierman for some tips about explaining ultrasound images to horse owners.

Tell your client what ultrasound is and how it works.

In a nutshell, ultrasound machines use sound waves to produce images. So, tell your client the technology relies on painless, noninvasive, high frequency sound waves which are inaudible to the human ear and harmless to their horse. As the sound passes through their horse's body, assure your client it causes no unpleasant sensation, but it does produce echoes that can identify the distance, size, and shape of internal organs and tissues.

Explain why ultrasound imaging is a good diagnostic tool.
Your client may know that performing an ultrasound is "de rigueur" during a mare's pregnancy, but he may not be sure exactly why! Let him know ultrasound scans are the best way to confirm if his mare is pregnant and to see if her fetus is developing properly. You can also let your client know that ultrasound machines reveal potentially dangerous situations such as multiple fetuses or abnormalities in the uterus that aren't identifiable with palpation alone.

Black and white sheds light.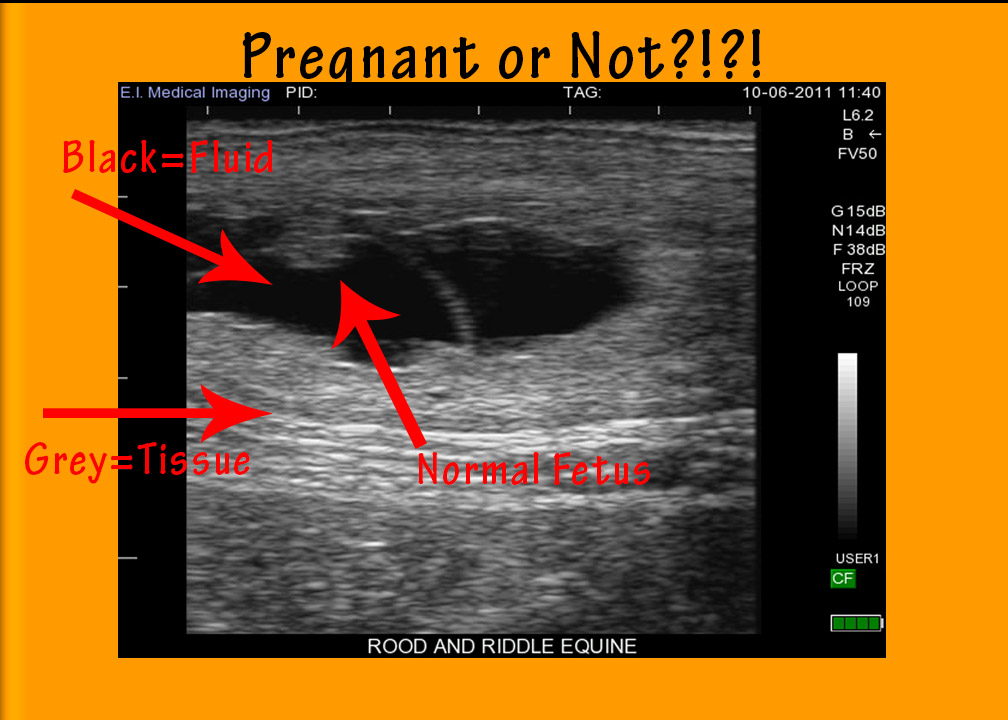 In our Technicolor world, your client might be surprised to see that ultrasound images are in shades of black, white and gray. You are comfortable with this monochromatic visual, but the typical horse owner may be skeptical about contemporary technology that isn't using full, living color! Tell him that light and dark are all you really need to see on the monitor, because the intensity of the returning signal translates into a level of brightness on the screen. The more dense the tissue, the brighter the image; so fluid appears black, dense materials such as bladder stones appear bright white, and the internal organs and structures will appear varying shades of grey. This baseline information will help your client to begin to understand what the ultrasound image means.

Use the "fruit analysis" to explain orientation.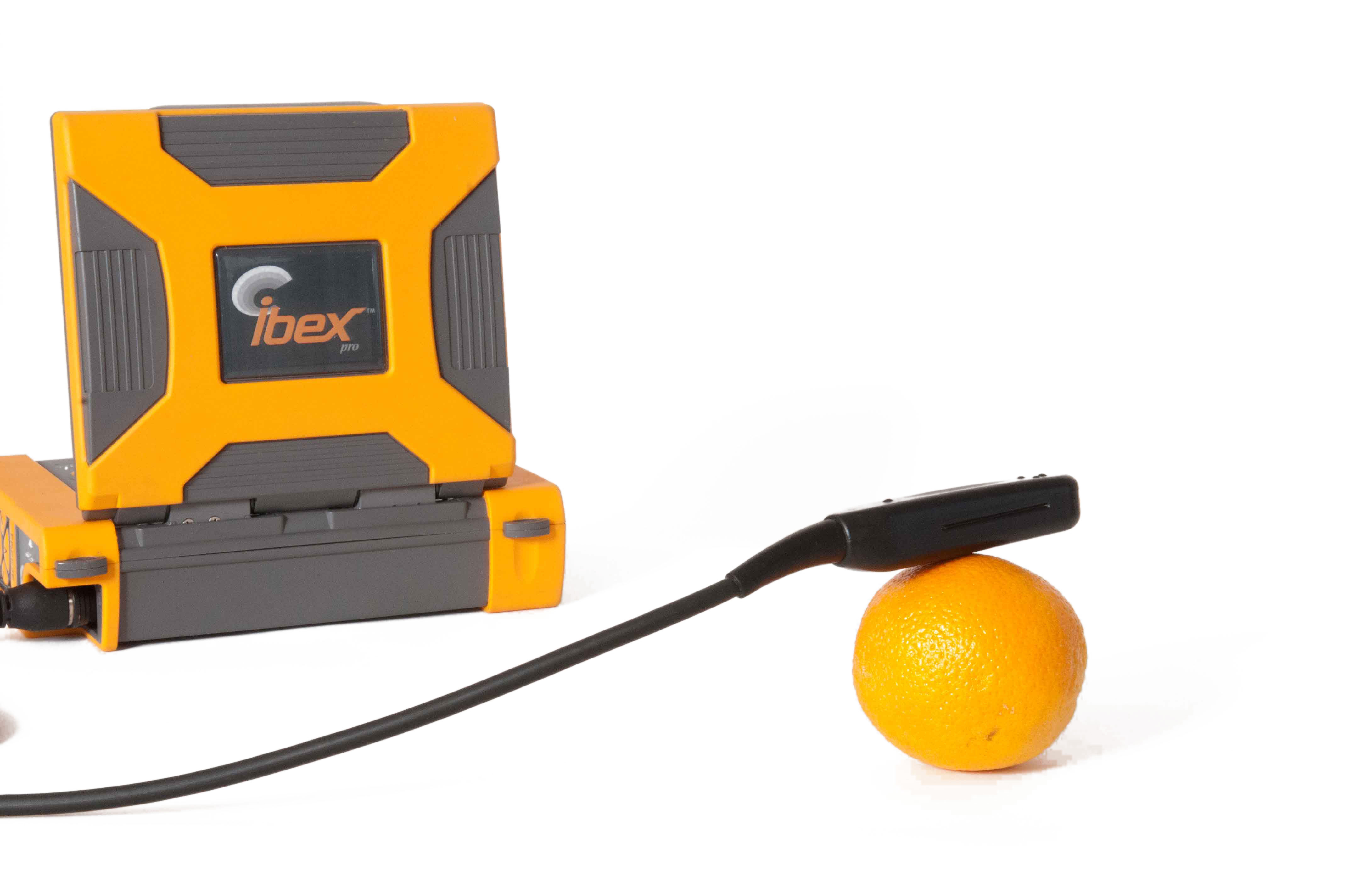 Believe it or not, a simple orange is a great visualization aid for explaining how an ultrasound machine's transducer works. Ask your client to think about an orange sliced from stem to navel; then sliced horizontally across the diameter. The rings and segments look totally different depending upon the slicing orientation. Use this visualization technique to help your client understand by altering the placement of the ultrasound's probe, you can "visually slice" the internal organs in whatever orientation you need to obtain the information you seek.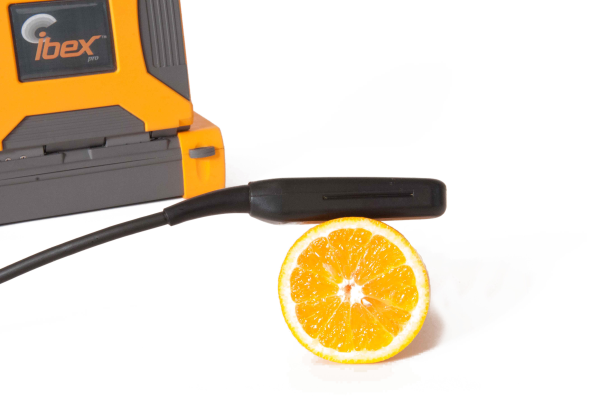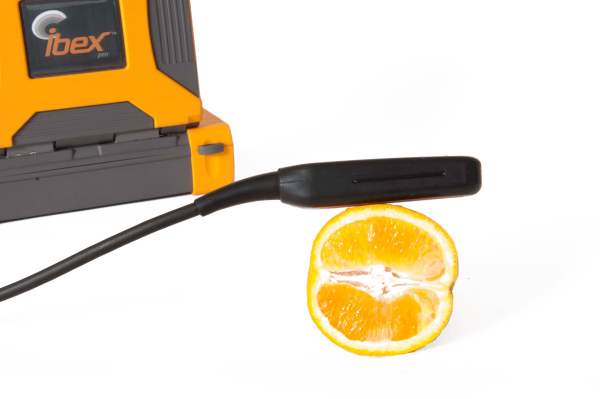 Keep it simple.

Many horse owners have a keen interest in equine physiology and it's safe to say that goes double for people who breed their mares. But, don't mistake that fascination with any great depth of veterinary knowledge. You know how organisms function, but take care not to overwhelm your client with all the details. Instead, point out basic, recognizable structures such as the beating heart of a fetus, the unique shape of a kidney, or flecks of pus floating around in an abscess.

Create a keepsake.

What proud mama or papa doesn't want to show ultrasound images of junior-in-the-making to absolutely everyone else they know? The same goes for a lot of horse owners, especially those who simply can't wait until next spring to see their new colt or filly born. Your client will really appreciate a video loop, disc or printouts of images taken during his horse's ultrasound procedure. Don't hesitate to circle remarkable findings in red magic marker and provide a congratulatory note. You may be surprised how much your client cherishes the images!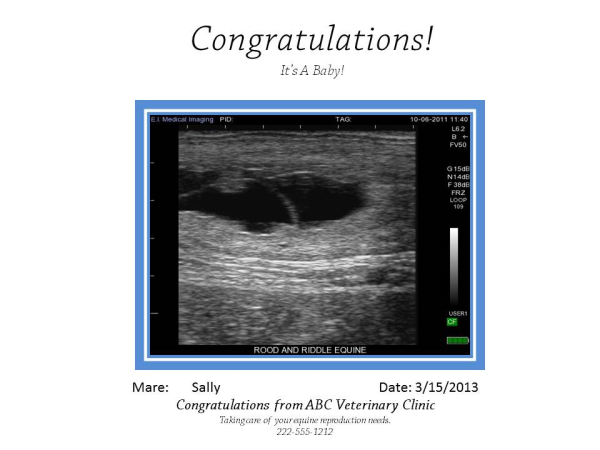 Dr. Erika Wierman would love to talk to you more about how an Ibex Portable Ultrasound System can help you in your practice and how it can change the way you can service your clients and the patients they love. For a free demonstration of what a portable ultrasound can do for your practice, contact us.