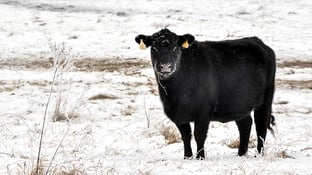 This interview was originally published in 2013 but still relevant today!
I had the pleasure of visiting with beef veterinarian Dr. Paul Chard in Brush, Colorado today about why he invested in portable ultrasound and how he feels it helps his practice be more profitable and provide better services to his beef herd customers.
Q. How long have you been using a portable ultrasound?
A. Since 2003
Q. Why did you first decide to add portable ultrasound to your bovine practice?
A. I recognized that there is a need for efficient and accurate early pregnancy diagnosis in beef cow-calf operations. I knew that portable ultrasound would be a fantastic practice builder and would greatly expand my capabilities as an ambulatory large animal vet.
Q. How many beef cows do you preg check every year?
A. Typically 10,000 to 15,000 and in spite of the decreasing US beef herd I have continued to do more and more ultrasound pregnancy exams each year.
Q. What are the main benefits of using ultrasound in a pregnancy diagnosis in a beef operation?
A. There are four primary benefits in using ultrasound for pregnancy diagnosis:

1. Early and accurate pregnancy diagnosis
Faced with the current drought conditions and high feed costs, producers will see a great cost savings by removing open or late pregnant animals earlier. Feed and forage costs are absolutely the number one expense for beef producers in the US right now.
2. Assess fetal viability with a great degree of accuracy
There are several key items that I assess in every pregnancy that is early enough in gestation to reach the appropriate anatomy: fetal heartbeat, appearance of fluid surrounding the fetus, appearance of fetal membranes, overall appearance and echogenicity of the fetus and general anatomical correctness. I find abnormal pregnancies often enough to make it worth the effort. If we are able to remove these abnormal pregnancies from the herd, the producers is spared the cost of feeding a non-producing cow all fall and winter and potentially the costs associated with difficult birthing of a deformed calf. In herds that may be experiencing infectious causes of reproductive failures we are able to remove problem animals sooner and reduce exposure to the rest of the herd. Many of these fetal viability assessments are impossible with manual palpation.
3. In the last several years early pregnancy ultrasound has offered several marketing advantages for beef producers developing replacement heifers
The greatest advantage has been seen when marketing the open heifers in late summer rather than winter. These open heifers generally sell as yearlings instead of heiferettes which always translates to a more valuable animal. Heifers that have been determined to be pregnant by ultrasound seem to be more desirable by most producers which also should translate to greater perceived value. Another marketing strategy for some more progressive heifer developers has been to sell heifers sorted in groups by ultrasound fetal sexing. Heifers pregnant with bull calves are more desirable to producers looking for a calf to market as a terminal animal. Heifers pregnant with heifers calves are more desirable to producers looking to quickly grow their cow herd by raising the greatest number of females that their operation can sustain.
4. Ultrasound is less invasive for the cattle and for the veterinarian as there is less uterine manipulation required than manual palpation.
I spend less time with my arm in the animals which translates to reduced chance of causing problems with the pregnancy and greatly reduces the wear and tear on my body. These benefits are greatly exaggerated when I am able to use the ICE extension and not even place my hand in the cattle. Hopefully I will be able to continue in my work with less pain and injury throughout my career thanks to this technology.
Follow Dr. Chard on Twitter @CattleVet or at https://www.yourlivestock.com/.
Here at E.I. Medical Imaging we want to help you with your veterinary practice. Just like Dr. Chard, perhaps it is time for you to invest in your practice by purchasing an IBEX® portable ultrasound system in order to be more profitable, and provide services needed by your clients and patients. If you want to schedule a free demo of the system or if you want to speak with a representative about how you can begin to be more profitable, please contact us.