By: Amanda Bertholf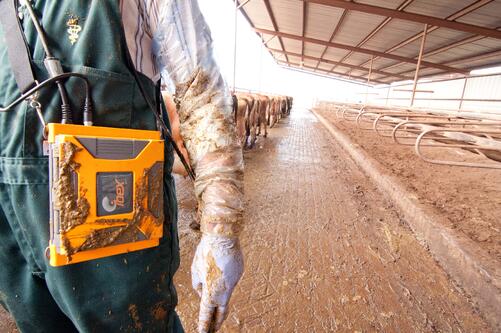 Considering a new equipment purchase like veterinary ultrasound machine may seem daunting. Sometimes it's hard to know where to start. So keep these tips in mind when you're thinking of buying and put your mind at ease.

1. Time it right.
Timing is always a critical factor, says Daniel Dorn, practice manager at Dells Veterinary Services in Dell Rapids, S.D. You've got to consider the equipment you're replacing—you don't want to wait too long. "Previously, we had used a Bantam model from E.I. Medical, and we were looking for an upgrade," Dorn says. "We were happy with the service we had received in the past, and the IBEX fit our need for aging and sexing early pregnancy, so we decided to try one. We were so happy with our first IBEX that we purchased a second unit to replace a competitive unit for our other doctor."

2. Do your homework.
There are so many companies out there that it can get quite confusing as to what your wants and needs are. It's critical to know what species, what environment and what features you want and what services you want to be able to offer clients with your ultrasound before you buy.

3. Do the math.
The economics of any equipment purchase are important because "if you buy it they will come," only works in the movies. "There are a number of companies that offer various options in all price ranges," Dorn says. "Find the unit that fits your current needs and projected needs for the next three years."

4. Figure the return on investment.
"ROI can be difficult to figure on one unit vs. another," Dorn says. "You have to look at which unit will allow you to do the services you currently do not offer to your clients in an accurate, repeatable and reliable manner." Can you gain new services or recapture services that were leaving your practice? Dorn says this is critical when looking at ROI.

5. Ask questions.
Ask the company you're considering purchasing from if it has support. After all, you're purchasing a serious piece of equipment that you'll put through the wringer: environments that are hot, cold, wet and dusty with 1000-pound animals—breakdowns will happen. So ask about the warranty. Does the company offer loaners, and how long does it take to get fixed? This has to be figured into the lifetime cost of the machine.

6. Consider the future.
"I don't think anyone initially purchases a veterinary ultrasound with a full book of business that will cover the ultrasound unit," Dorn says. However, he says, current, one and three year projections based on reasonable growth rates and expansion of your client base do need to be able to cover the cost of the unit within three years. If this is not the case, this may not be the right time to purchase new equipment, or you may be purchasing the wrong machine.