written by: Mia Varra and Dr. Paul Chard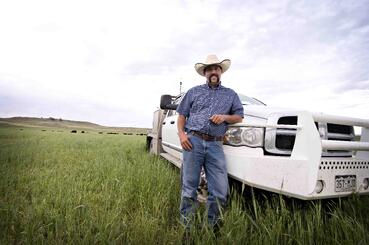 In the heat of the summer when all your time, energy and effort is devoted to raising and bailing hay, combining corn, fencing and keeping clean cool water flowing for your cattle it's hard to think that it's time to start preg checking. But we all know how the time flies, especially in the busy summer.
Using ultrasound to preg check heifers and cows is an invaluable money making management practice for any herd. Finding females in your herd of cattle that did not breed early will completely pay for the extra cost of using ultrasound and allow you to make management decisions with those cull animals right now!
Another benefit of using ultrasound to pregnancy detect your cows is increasing your knowledge of what's coming down the road. My husband and I started using ultrasound to group our cows in the Fall on corn stalk fields and winter pasture in smaller more manageable groups for calving. We sorted these smaller groups by determining the fetal age of the calf at preg check time. This allowed us to get the absolute most out of our low cost Fall feed and to have smaller more manageable groups to calve. This has proven to pay our cow-calf operation back in profit and labor.
We've learned from trial and error that as our veterinarian, Dr. Paul Chard, preg checks using the Ibex® ultrasound, he calls out "Pregnant" or "Open" he also adds the fetal age so that we can sort them into pens as the cow or heifer comes out of the chute. This pregnant female will now be managed through the next 6-9 months by this fetal age group sort.
If you are a bovine veterinarian and looking to improve your knowledge and skills in fetal aging with your portable ultrasound, here are a few tips from Dr. Chard.
How is this information (i.e. fetal age) best used by the cattleman?

Most producers have recognized that reproductive efficiency has a very direct impact on their herd profitability. Many operations are opting for a shorter calving season (45-60 days). This helps to increase weaned calf uniformity and eliminate less productive individuals. These operations will often cull cows that will calve later and therefore wean a smaller and less valuable calf. It is essential to have accurate fetal ages in order to ensure that these culling decisions are based on solid information.

If you were training a veterinarian or intern how to properly fetal age, what steps would you go about to teach them?

The first step in learning how to properly age pregnancies is to gain a decent amount of manual palpation experience so that the mechanics of entering a cow and maneuvering around the anatomy is familiar. I firmly believe that the only way to establish that an individual is non-pregnant is to scan the entire reproductive tract starting from the cervix with the body of the uterus and down each uterine horn to the tip. Only then can you truly be sure that the uterus does not contain a pregnancy. This maneuver does require some amount of skill in manipulation of the reproductive tract. There is little value in providing ultrasound pregnancy exam as a service to beef producers if your accuracy of finding non-pregnant animals isn't 100 percent. Each pregnant animal that is misdiagnosed as open will cost the producer several hundred if not thousands of dollars, may cause an unnecessary loss of life and will get the veterinarian fired.
With a basic understanding of ultrasound technology, the trainee should then review captured sonogram images and videos to familiarize themselves with fetal anatomy targets of interest as well as what normal looks like in various stages of gestation. The trainee should also become familiar with gestation tables that are used for fetal aging in various stages of gestation.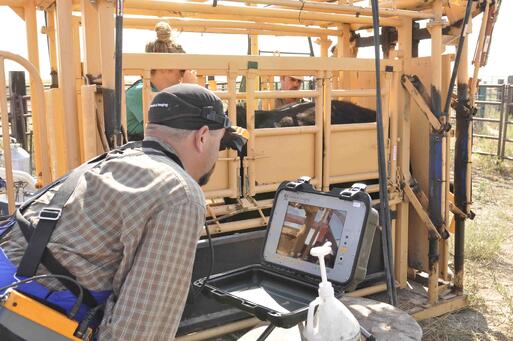 The next step is for the trainee to actually ultrasound some cattle with the trainer observing the live ultrasound images. This is best done with the trainee using a portable ultrasound with the trainer observing by simultaneous wired headset monitor or by using a wireless monitor. The wireless monitor is truly the best and most efficient way of training as the trainer does not have any physical interference with the trainee but can give audible directions. The wireless monitor also allows an otherwise reluctant producer to observe first hand the images that the inexperienced trainee is generating. This is a teaching opportunity for the trainer veterinarian to build trust with the client and the trainee.
Initially it is easiest for a new trainee to start with cattle that are somewhere between 45 and 90 days in gestation so that there is a reduced amount of required physical manipulation and the entire pregnant uterus is easily reachable in the pelvic canal. Several hundred head of cattle are required for a new trainee to become proficient at fetal aging, but with proper equipment, trainee preparation and coaching the learning curve is very steep.

Why do you use crown measurement?

I use fetal head diameter to determine fetal age in most cases because it is the most accurate measurement across the widest range of gestation in cattle. The head is the easiest place to capture a consistent measurement of the same anatomical position on every fetus.

Does fetal aging require more time in each cow for examination? Approximately how long does it take to examine every cow?

Fetal aging does require more slightly time than just calling "bred/open". I argue that this difference is negligible if you are comparing "open/bred" to fetal aging while assessing fetal viability to ensure accuracy in both cases. Time required for a proper ultrasound pregnancy exam depends greatly on other circumstances such as ultrasound equipment, cattle restraint equipment, cattle temperament and cattle handling skills of the crew that you are working with. While wearing my IBEX portable ultrasound with InSite headset monitor the actual amount of time that I spend in the cow is somewhere between 10 and 30 seconds for a complete fetal aging and viability exam. This quite often allows me enough time to also operate my portable hydraulic chute and not be holding up the flow of cattle.

Any final comments or tips to give a ultrasounder that may be "guessing" fetal age instead of measuring or using the grid to age?

I use the full-screen grid for measuring head diameter for fetal aging with great efficiency and accuracy. I think that there is a great enough advantage in accuracy over guessing that I owe it to my clients to use this technology.
More videos of bovine crown fetal aging ultrasound by Dr. Paul Chard:
Bovine Fetal Crown
Bovine Fetal eye
Bovine fetal nostril and nose
Bovine Fetal Crown
Bovine Fetal Crown