We wanted to bring everyone up to speed on what is going on at the Behler Chelonian Center ("BCC") as of June 2013. If you recall we recently provided the BCC with an Ibex Ultrasound that was purchased through the donation from Patagonia. Our company then provided a pair of goggles to be used by the BCC along with their system. We were excited to see this image as provided by the conservancy in their newsletter.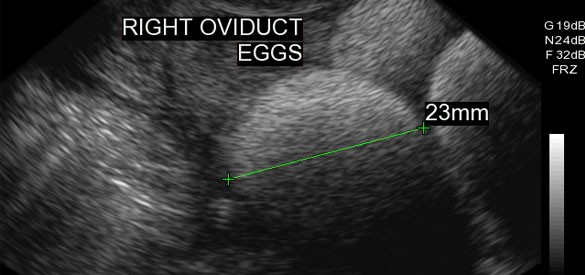 They included the follolwing information from their blog post as a further description:
On June 11, 2013, ultrasonographic examination of the young adult female Ploughshare Tortoise in our conservation breeding program at Behler Chelonian Center revealed at least 3 fully mineralized eggs in the right oviduct. This female was bred by the male several weeks prior to finding the eggs, and at that time, ultrasonography showed follicles on her ovaries, so we hope these eggs were fertilized by that mating. We are now providing her with plenty of privacy on an outdoor soil substrate in the hopes that she will soon excavate her very first nest.
We congratulate them on their success and their use of the Ibex system. It truly is nice to see our system being used by a special organization to help endangered species.