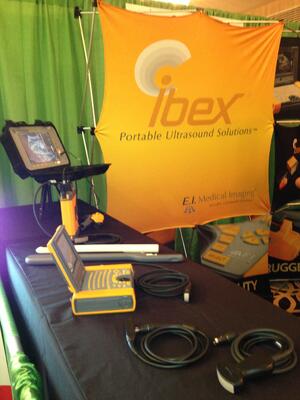 Last week our company was excited to be a part of and be an exhibitor at the Theriogeneology Society conference in Louisville, Kentucky. Theriogenology is a specialized field as we find at Wikipedia:
Theriogenology is the branch of veterinary medicine concerned with reproduction, including the physiology and pathology of male and female reproductive systems of animals and the clinical practice of veterinary obstetrics, gynecology, and andrology. Theriogenologists are veterinarians with advanced training in animal reproduction and obstetrics. In the United States, most theriogenologists are board-certified by the American College of Theriogenologists.
The Hilton Seelbach Hotel was a great venue in the heart of downtown Louisville and it allowed me to get to and from the event easily at the Louisville Airport. I arrived Thursday evening just as the exhibit hall was opening with their "happy hour" reception and Dr. Erika Wierman our staff veterinarian and I had good traffic at our booth right away.
The attendees at this event already had a good idea about how to effectively use our Ibex® Portable Ultrasound System therefore, there was very little by way of explanation of our system and how it worked. It was nice to hear of many other veterinarians and professors using our system in practice and using it as a teaching tool in classrooms all over the country. This is a specialized group as stated, but within the group there were subgroups of those using the ultrasound for cattle, small animals and of course since we were in "horse country" there were plenty of equine veterinarians on hand to speak to about our portable ultrasound machine.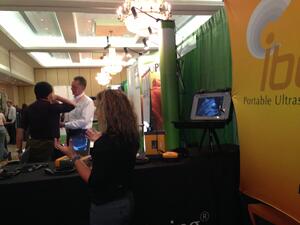 Of interest to the many attendees this year was the special we have running on the I.C.E., or our Ibex® Customizable Extension arm free device. This device is being given free to anyone purchasing an Ibex® Portable Ultrasound System through September 1, 2013. This device is very popular because of its design and functionality but having talked with many of the veterinarians it is also popular because it saves not only the stress of the animal but also relieves wear and tear on on the veterinarian, especially those pregnancy checking numerous cows in a single day.
I have been busy with our design and engineering team giving feedback I heard regarding design features and the things that we can do as a company to make the system even more user friendly and how we can improve upon our system. I tried taking notes and making it purposeful to write down all I could remember about the ideas given. This is important to us and we take all feedback very seriously and in most cases try to implement changes and advanced features for those looking to make the system a better product. I know I had a great opportunity to see how the real world is and how we might be a better fit for many customers. Hearing all the daily use case scenarios and how each used the product was invaluable.
There were a number of veterinary students at the conference and many of them were familiar with our ultrasound machine since many of the agricultural schools and veterinary colleges have our units in their teaching facilities. Many professors were checking in to see if they could upgrade their current systems or if they could schedule a -Free Demo with one of our staff. If you are a college professor and have yet to schedule your demo, please let us know.
We provided a "show special" at the event and in order to get your own special offer, even if you were not fortunate to be a part of the Theriogenology Society event, please contact us and we can provide you a hassle-free pressure-free price quote. We also have special pricing for those in the teaching profession and for universities and colleges. Please make sure you let us know if your machine is headed to school.
We want to thank all of the people involved with the Theriogeneology Society, including and especially Theriogenology Society board member and friend of E.I. Medical Imaging, Dr. Jill Colloton, for allowing us a chance to participate in the event. It was a pleasurable experience and one we will look forward to next year in Oregon!