Many of us here at E.I. Medical Imaging have kids and we are all gearing up for them to head back to school. My kids were not excited at the idea that summer vacation was over and they were lamenting about having to wake up early to get ready for school. I quickly reminded them that they did not have to wake up extra early to do chores such as milking cows before school and I think they realized at that point it was falling on deaf ears. Nonetheless they headed back to a season of learning and that is what we here at EIMI are aiming to do for our current customers and potential customers--teaching them all about the benefits of ultrasound.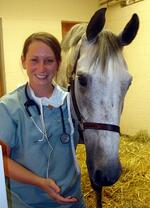 If you are a livestock producer or veterinarian, portable ultrasound can be a huge benefit to your business and your bottom line. If any of you are right now asking yourself "How?", you are not alone. We aim to answer that very question in the coming weeks and months ahead with a series of webinars, seminars, how-to videos and eBooks. If you are here reading our blog or have followed along on Facebook and Twitter, you know that we are putting information here and there for you to read and use for your business. We hope to expand that to the other areas I mentioned.
One of the initiatives we will be implementing over the next few months is our education and training programs prepared and supervised by our very own staff veterinarian, Dr. Erika Wierman. Dr. Wierman has provided us with an outline of the areas where ultrasound can benefit all practitioners, from bovine, to equine, to small ruminants and companion animals. We look forward to the program as it develops further.
ULTRASOUND BUTTONOLOGY
Our first look into the webinar series will be an informative talk our President, Chas Maloy likes to call "Buttonology". This is a rundown of how to use the Ibex® Portable Ultrasound System from turning on the machine, to recording images, to how you can change your settings and many other basic instructions on the operation of the Ibex® Pro and the Ibex® Lite. Pete Temple, our service manager, knows the workings of the Ibex® Portable Ultrasound System like none other and he will be on hand to teach what he knows, and more importantly will be responding to customer questions and providing information related to your feedback. Once we have set the date we will be inviting all of our current Ibex® customers and those interested in how our system works to take some time to really see how easy our the Ibex® is to use and how it can help you with your business.
Some of our other educational topics and items we plan to have as training are, Ultrasound 101, veterinary topics such as Fetal Viability, Fetal Sexing, calf lung checks to ovarian and follicular dynamics. We even want to provide a few topics like business marketing and financing your equipment! If there is a specific topic or area of training you would like to learn more about as it relates to using the Ibex® ultrasound in your business or practice, we would love to entertain your suggestions. In the meantime, if you are ready to learn, welcome back to school!