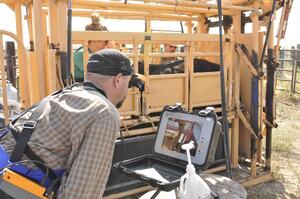 As part of our current campaign to help with education and training of the veterinarian and the livestock producer, E. I. Medical Imaging is taking its durable portable ultrasound on the road in Nebraska to educate veterinarians on the use of its Ibex® Customizable Extension or as we refer to the accessory for the Ibex® Portable Ultrasound, the I.C.E.® The title of the course scheduled on September 26, 2013 is "Extension Arm Ultrasound Pregnancy Testing and Fetal Aging Course". The following press release describes more fully the training course and the logistics:

September 26, 2013 – NORTH PLATTE, NE

The University of Nebraska West Central Research and Extension Center in cooperation with Repro-Scan, E.I. Medical Imaging, and BCF Technology will be hosting a Bovine Reproductive Ultrasound for Veterinarians course to provide hands-on, in-depth instruction in the use of ultrasound for bovine reproductive exams. This workshop will focus on utilizing "extension arm" ultrasound technique and fetal aging.

This course will be of interest to veterinarians who wish to learn more about extension arm ultrasound pregnancy testing, develop fetal aging skills, incorporate fetal aging into their bovine practices and prevent injuries associated with palpation. Each delegate will have an opportunity to work with 3 different makes of portable bovine ultrasound equipment.

The course will be held, September 26th, 2013 at the research center just south of North Platte, NE beginning at 9:00 am – 4:00 pm. Course tuition will be $300 per person with limited enrollment. 6 hours of CE credit has been applied for. For further information or to register contact Rick Funston (308-696-6703), rfunston2@unl.edu .