I'm in marketing. Part of my job duties are to worry about our E.I. Medical Imaging brand. As a veterinarian or as a livestock producer or for that matter any business owner your job is also in most cases to worry about your company, your business and your brand. We recognize that issue here at EIMI and want to help you with a small component of your duty to be concerned with your company brand.
Recently, we had a veterinarian ask about an ultrasound image they saw where the image had the name of the clinic where the technician or doctor worked and/or performed the test. An example of this is provided below where an image produced by the Ibex® Pro Portable Ultrasound System shows:
"Copyright 2009 E.I. Medical Imaging. All Rights Reserved."
The default text of the system when your Ibex® is shipped to you will have this on each saved image or each saved cineloop (video). To save images and to save cineloops, please refer to the quick user's guide provided with your system.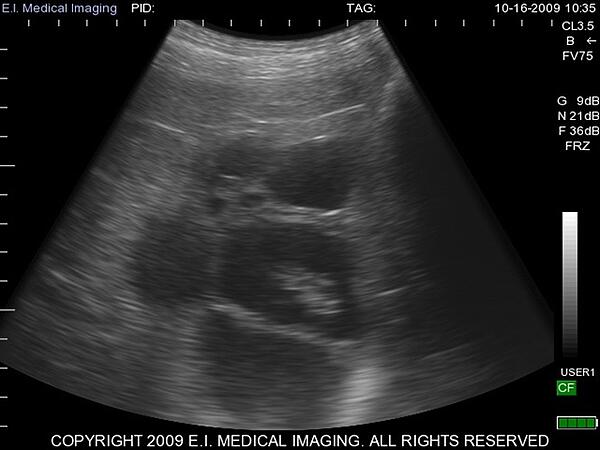 This is our own branding of E.I. Medical Imaging, but perhaps you want to change that text on your images to your own branded message. If I was your marketing person I would be making that suggestion immediately.
Many software companies in industries all over the world allow what they call "white labeling" or custom branding of software to fit the look, feel, logo and color scheme of your business. In this instance, it may just be changing how the image is saved and the message that will read across the bottom of the screen. If your business is "ABC Veterinary Services" and you want your brand to appear on each saved image of your patient, we can make that possible. In fact, if you want to specialize the message to include the tagline or branded messages such as:
"ABC Vets - Scanning Since 1992"
(shown below)

or
"ABC - Your Vet Service of Choice"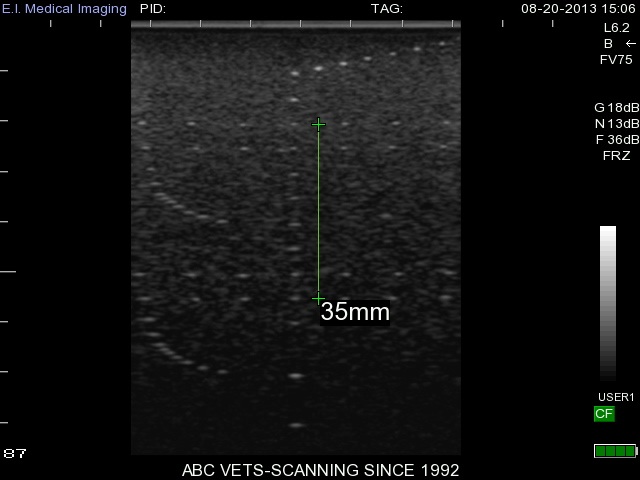 our portable ultrasound system can make that possible. At this time there is a character restriction of 32 characters but those of you used to the 140 character Twitter limitation can work a message out fitting your needs.
You can perform the function easily by changing the information in the profile options of your Ibex® Pro or your Ibex® Lite. You can get the information in your Ibex® Pro by going to the MISC function and changing your options. You may go to the F1 key and enter the option Menu. You then press F4 key to display the MISC Option dialog box. You can then select the MISC options using your arrow keys or your trackball. Simply go to the option of "Clinic Name" and type exactly the message you want in the space at the bottom of the images. In this case the default as I indicated is our copyright message.
If you are changing the message in the screen on your Ibex® Lite, you simply go to the Config Menu. To get to your Config Settings, simply press the SEL key to display your settings and using the arrow keys highlight and select the Config Option "Clinic Name" and change the text to read exactly how it should appear by pressing the GAIN key to produce the on-screen keypad. It truly is that simple.
For the veterinary clinic wanting to provide a customer images of the bull calf or perhaps an image of the brand new foal as we suggest, it is always possible to also have your brand front and center. The example below using "Rood and Riddle Equine" as the branded message: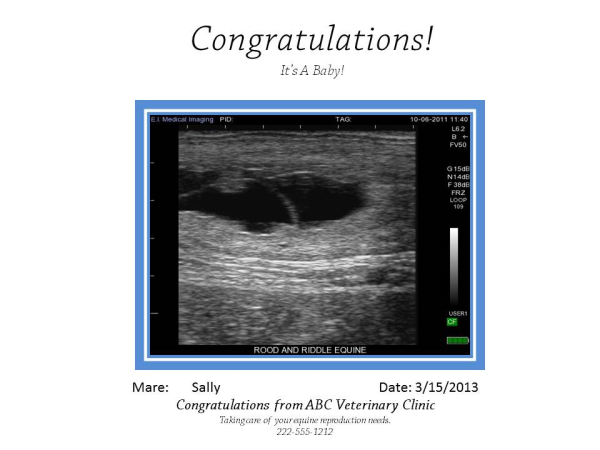 As you can see this is a simple way of branding your business. As a veterinarian, it might be the little things that differentiate your practice and it might get you more business. Who can't use more business?
You can answer that question in the comments below or feel free to comment with your questions or other feedback.