By Mia Varra, Creative Consultant
Last week I was thrilled to get the opportunity to represent E.I. Medical Imaging and their Ibex® arm-free bovine ultrasound equipment at a veterinary training at the University of Nebraska, North Platte. I used to get to travel the country and meet exceptional veterinarians and university professionals all the time, but since I am now in a marketing/creative design roll for EIMI at home on our ranch in Western Nebraska, I jumped at the chance to go to a field day.
Rick Funston at the University of Nebraska, West Central Research and Extension Center, organized this top notch field day and ultrasound training. The class was booked with 10 veterinarians and 4 audits in only a few days after the class was announced. This tells me that beef veterinarians are craving more ultrasound and specifically Arm-free ultrasound training. Veterinarians travelled from Montana, South Dakota, Kansas, Colorado, Texas and the home state of Nebraska to attend this class.
The class began at 9:00 a.m. with a classroom lecture. Rick Funston started with sharing his research in beef cattle nutrition and reproduction research. He shared two great websites I encourage beef veterinarians to check out. The first one is beef.unl.edu that has lots of great information in beef reports, proceedings and webinars and their national repro group website, beefrepro.info, look under resources for past proceedings, etc, lots of great information as well. After a quick break, all three ultrasound companies present got to share information and general ultrasound technique, arm-free practical experiences, and more specific, training on fetal aging, abnormalities and herd management applications.
The group was itching to get out and try the equipment options and new ultrasound knowledge to use on real cows. The University of Nebraska provided over 100 heifers to ultrasound with the main emphasis being on using the arm-free devices.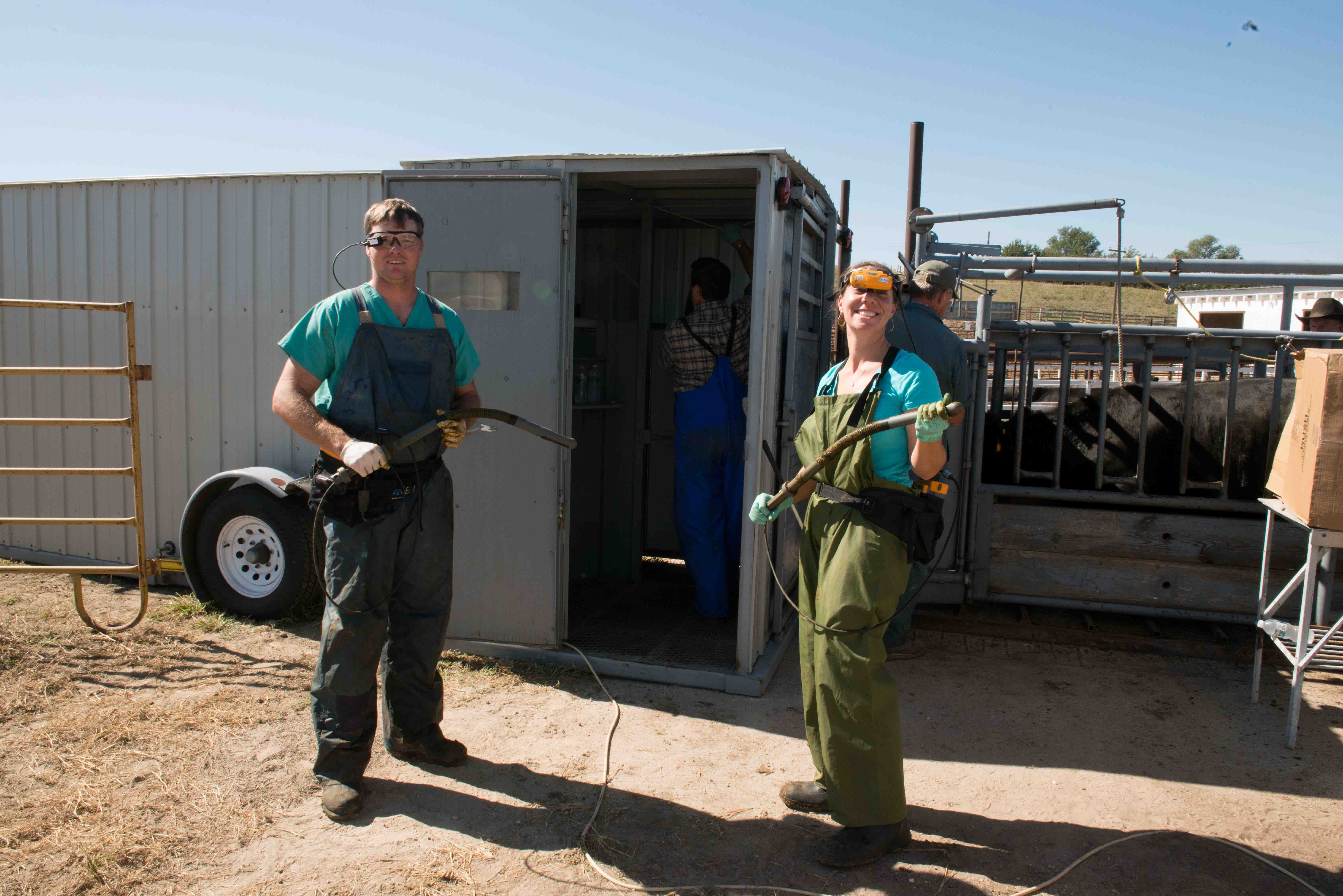 Joel Robbins, DVM Scottsbluff, NE and Hannah Klien, DVM Johnstown, CO suited up first in the Ibex® Portable Ultrasound and I.C.E™ Arm-Free Extension equipment.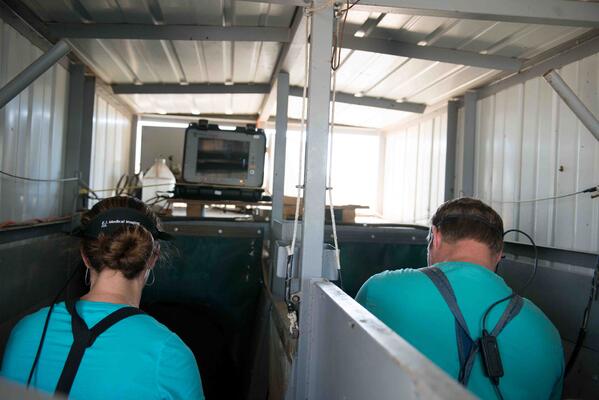 Both Dr. Robbins and Dr. Klien found it easy to find pregnancy and open heifers using the Arm-free device.
Thank you to Rick Funston and his team at the University of Nebraska for all their hard work and time in arranging this great educational opportunity. I hope the veterinarians attending the class enjoyed the day as much as I did. It's not easy to learn a new skill but I feel all the veterinarians will take valuable information back home to their producers and continue to provide great ultrasound services.