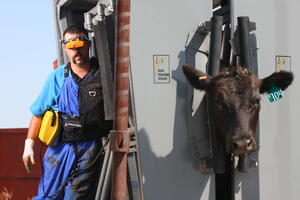 As we sit here in the midst of completing our budgets for 2014 at E.I. Medical Imaging a common question is for us to look at expenditures for the previous couple of years and ask, "What was the return on the investment?" Suffice it to say this is a question asked in any business setting and for any department. The same can be said for veterinarians and livestock producers. As the title of the article here infers, what is the return on investment of purchasing a portable ultrasound system? We here at E.I. Medical Imaging are the first to try to find ways to make the systems we sell more affordable for our customers. In fact we discuss this at length every time we get together in a sales meeting, a marketing strategy session, and even now as we prepare our budgets for 2014.
In a recent article published in Bovine Veterinarian entitled, Bovine Repro Today and Tomorrow, they take a look at where we are in the bovine reproduction industry and perhaps where we might be headed. They start right away with talking about the economy of the beef and dairy markets and pointing out that the industries are using new technologies for their business and that many of the technologies being used have "trade offs and caveats."
We know that the cost of an Ibex® portable ultrasound is a large investment. In order to offset the cost of the system, there has to be a return on the investment that can be realized by the veterinarian in their practice or the cattle or dairy producer, or perhaps better yet--both. The article mentioned in Bovine Practitioner has some good examples of uses of portable ultrasound. Producers are using ultrasound to scan their cows after breeding to determine pregnancy, to determine the age of the fetus and in some cases they are sexing the fetus at the same time. All of this is translating into higher profits as stated in the article because heifers can be qualified and raised to higher tiered programs. As stated:
Premiums for qualified heifers are helping drive demand for ultrasound scanning. In Show-Me-Select sales from fall 2010 through 2012, qualified, natural-service bred heifers sold for an average of $1,638, and those with verified AI pregnancies averaged $1,830. Those heifers that were AI sired from high-accuracy sires that qualify for Tier 2 in the program and were carrying AI-sired pregnancies averaged $1,968.
It wouldn't take long at this premium to realize pretty quickly a return on investment for a purchase of your Ibex® Portable Ultrasound System. As a veterinarian you can offer the service above to your clients and as producer, you can demand better prices and realize more profits for your cattle. Certainly a win-win situation.
It should also be noted that there may be issues with timing using ultrasound. A good point discovered in the article and a point made by Paul Fricke, PhD regarding a "trade off or caveat" is:
Fricke says he is trying to move dairies away from using ultrasound before 30 days post-breeding, with 32 days preferable and 39 days better for accurate non-pregnancy diagnosis and re-synchronization. Most importantly, diagnosis using ultrasound should be based on visualization of a corpus luteum, fluid in the uterus and detection of an embryo with a heartbeat.
I am not quite sure this is a trade off of using ultrasound more than just a protocol that must be established as part of the normal business routine. Working together a vet and the producer can establish the proper business plan that will work to provide the best return on investment possible.
We would love to help all veterinarians and producers understand the reasons for using ultrasound in bovine reproduction. The above is merely scratching the surface on ways you can use the ultrasound system to be a more productive, more profitable and a more efficient and successful business. Contact us today for a free demonstration of your new Ibex® Portable Ultrasound System.
Premiums for qualified heifers are helping drive demand for ultrasound scanning. In Show-Me-Select sales from fall 2010 through 2012, qualified, natural-service bred heifers sold for an average of $1,638, andthose with verified AI pregnancies averaged $1,830. Those heifers that were AI sired from high-accuracy sires that qualify for Tier 2 in the program and were carrying AI-sired pregnancies averaged $1,968. - See more at: http://www.bovinevetonline.com/bv-magazine/Bovine-repro--today-and-tomorrow-225401572.html?ref=572&page=2#sthash.hE9NRTEf.dpuf
Premiums for qualified heifers are helping drive demand for ultrasound scanning. In Show-Me-Select sales from fall 2010 through 2012, qualified, natural-service bred heifers sold for an average of $1,638, andthose with verified AI pregnancies averaged $1,830. Those heifers that were AI sired from high-accuracy sires that qualify for Tier 2 in the program and were carrying AI-sired pregnancies averaged $1,968. - See more at: http://www.bovinevetonline.com/bv-magazine/Bovine-repro--today-and-tomorrow-225401572.html?ref=572&page=2#sthash.hE9NRTEf.dpuf
to check pregnancy, fetal age and, in some cases, sex of the fetus. - See more at: http://www.bovinevetonline.com/bv-magazine/Bovine-repro--today-and-tomorrow-225401572.html?ref=572&page=2#sthash.hE9NRTEf.dpuf
to check pregnancy, fetal age and, in some cases, sex of the fetus. - See more at: http://www.bovinevetonline.com/bv-magazine/Bovine-repro--today-and-tomorrow-225401572.html?ref=572&page=2#sthash.hE9NRTEf.dpuf