I've been thinking a bit lately about a conversation I have frequently with my colleagues. It's one that questions the need for and the appropriateness of ultrasound use in a general companion animal practice. I repeatedly hear veterinarians bemoaning the time required to learn to perform ultrasound, the expense of implementing it, and the potential liability in interpreting it. They often tell me that they have a "wonderful traveling radiologist/internist" who comes in at a regular interval to conduct ultrasound exams on their accumulated cases.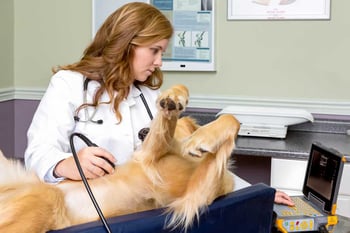 …and my first thought is of that old golden retriever with the bleeding splenic hemangiosarcoma. That patient doesn't have the luxury of being able to wait until next Wednesday at 2:30 for a diagnosis, and radiographs/abdominocentesis/exploratory on a hunch seems so cumbersome when you could have a lot more information in a lot less time.
But allow me to back up a moment, because I've been there. I've been the young vet in a nice practice that has opened its mind to instituting ultrasound.
I know how intimidating it can be—you really want to take advantage of this technology, but once you've placed the transducer on the patient, you're overwhelmed by swirling shades of grey that you feel in no way prepared to interpret. Perhaps you even take a weekend short-course. You sit with the best minds in veterinary ultrasound for two days and scan with $100k machines on anesthetized patients with constant supervision. Yet somehow, when you come home to squirmy cats and a 20-year old portable system, things just don't look quite the same. You don't feel confident charging for the exams, and furthermore you feel that you possibly—er, likely—miss something important each time. So this is what specialists are for, right?
Yes. And no. Hear me out.
We are veterinarians—the epitome of professional versatility. With our doctorates came the ability to treat any non-human species, whether we have experience with that animal or not. We are critical thinkers and researchers by profession. We shoot radiographs even if we are not radiologists. We run labwork though we aren't clinical pathologists. We treat DCM though we aren't cardiologists.
You can learn ultrasound, to whatever degree you choose, without a board certification in internal medicine or radiology…and I propose to you that learning a FAST exam technique is a good place to start.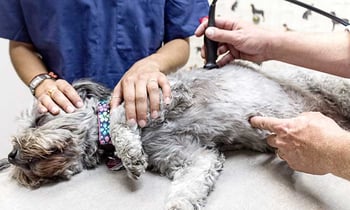 FAST or FLASH scanning began in human emergency medicine. The primary goal was to identify bleeding as a result of trauma. The technique was condensed into a checklist-style protocol that could be completed in a matter of moments for a rapid assessment of key areas. Today, this method has been translated into veterinary medicine and is based on the same concept. Written templates, widely available tutorials, and online training ensure that this is a very targeted and simplified exam that any veterinarian or technician can perform as easily as a general physical exam.
But FAST exams do more than identify fluid in the abdomen. They teach the novice about the basics of ultrasound concepts, technique, probe handling, and interpretation. As in all things medicine, you'll learn to recognize normal anatomy in order to then identify pathology. As you perform more and more exams, you pick up on incidental findings with alarming frequency—the transitional cell carcinoma in that terrier's urinary bladder, the early changes in the kidneys of that older cat, sludge in the gallbladder of an obese dog. As Dr. Greg Lisciandro of FASTVet.com often says, the ultrasound becomes an extension of your physical exam. You thoroughly evaluate the outside of your patient, so why wouldn't you take a look inside as well? And just as you have a checklist for your routine physical exam, you will have a checklist for your brief ultrasound exam as well.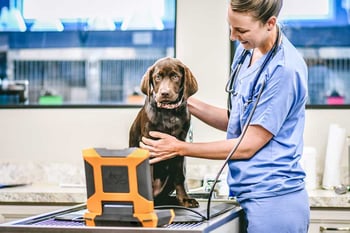 Your FAST exams are not marketed to your clients in the same way your complete abdominal or thoracic ultrasounds are. You are not suggesting that you have evaluated and measured every lymph node or thoroughly assessed the notoriously difficult pancreas. Perhaps you will charge $40-60 for your FAST exam, rather than $300 or more for a "complete" fasted, sedated ultrasound exam. You'll market it as a screening test, used to look for gross anomalies and obvious, life-threatening conditions. I'm going to suggest that you make a FAST exam (which takes 7-10 minutes or so and costs less than radiographs or most blood panels) not only part of your trauma assessments, but part of your pre-op workups, your geriatric wellness exams, and your ADR evaluations.
And here's the beautiful truth. You will discover pathology. You will implement therapies earlier and save lives. In addition, you will most likely increase your referrals to all those specialists I mentioned. You will line patients up for those bi-weekly exams by the traveling radiologist because you will have already identified anomalies that require further expert assessment and medical intervention. The FAST exam will have become your first line of defense and the gatekeeper for your referrals. Should you so choose, you might continue to further your ultrasound education and perform more and more detailed exams… but even if you don't, that old golden retriever with the bleeding hemangiosarcoma will have the benefit of your new skill set and improved diagnostic capability.
*This opinion blog piece is in no way intended to replace a lecture and lab course in FAST scanning. A FAST exam is intended to provide valuable screening information and to act as an additional piece of the diagnostic puzzle. Please learn and understand the limitations of targeted ultrasound exams and work with experienced ultrasonographers and board-certified specialists who can assist you with follow-up as needed.
For more resources on this topic, see a previous post Do You Need Ultrasound In Your Practice?
As always, we are here to help! For more information, call 1.866.365.6596 or go to https://www.eimedical.com/get-info.
---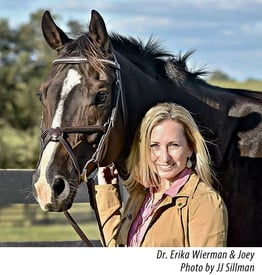 Dr. Wierman is Staff Veterinarian
and Director of Education for
E.I. Medical Imaging.
Follow Dr. Wierman on
Instagram @Dr.Wierman