By: Hilary Parker
How have dairy producers come to rely on ultrasound technology to increase bovine conception rates?
Simple: Since cow fertility rates have dropped dramatically in the past few decades, they need a practical, affordable tool that can bring them out of the breeding basement. And with many herds in the west experiencing conception rates with timed breeding programs in the 20 percent range, something's gotta give.
It's a good thing that ultrasound is a breeder's best friend.
Kevin McSweeney, DVM, Bovine Reproductive Specialists, Loveland, Colo., says that ultrasound technology, when used as part of a timed breeding program, can greatly increase pregnancy rates.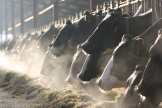 "Cows just aren't showing heat like they did even twenty years ago," says Kevin McSweeney, DVM, Bovine Reproductive Specialists, Loveland, Colo. "Even those that do give you less activity for a shorter period of time."
And reproductive ultrasound has a larger role to play in the dairy industry than only as a means of early pregnancy diagnosis, he points out. Being able to identify open cows as soon as possible and then initiate a timed breeding program can improve pregnancy rates by increasing the heat detection rate, but ultrasound also allows the user to ensure synchronicity.
After all, according to research conducted in Colorado on commercial dairies, a large percentage of cows at first service or diagnosed not pregnant are not within the optimal 5- to 12-day window to start synchronization programs. When these cows are allowed to continue through their programs, they conceive at a much lower rate: Not only are these non-synched cows outside the optimal window, but a large percentage end up being poor candidates for synchronization in the first place. Allowing these non-synchronized cows to continue breeding will lower your pregnancy rates. Deferring one week or applying different strategies can greatly increase conception rates to timed AI and, ultimately, your pregnancy rates.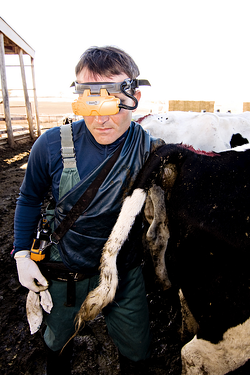 Ultrasound allows scanners/breeders to assess the entire ovarian structure, meaning they can better predict when cows are in the optimum period to initiate or continue in synchronization programs. By using ultrasound, cows can be assessed and synchronization programs can be modified when cows fail to respond to the first GnRH injection. Combining ultrasound with a synchronization program can be a powerful management tool to maximize not only heat detection rates but also conception rates, resulting in improved overall pregnancy rates, McSweeney says.
"Ultrasound technology used to be cumbersome and costly," McSweeney says. "But lately there have been significant improvements in less expensive, portable ultrasound units which has turned this kind of technology into a cost savings tool."
But, he warns, producers need to be willing to change how they run their breeding program.
"Acknowledging that cows are not the same and then implementing intensive management protocols to overcome these obstacles is critical to improving reproduction," McSweeney says. "Everything we thought we knew about the reproduction of lactating dairy cows has to be reconsidered. Thinking outside the box and applying new strategies to reproductive management can pay big returns. Incorporating ultrasound intensively into timed artificial insemination and estrus detection programs can improve rates dramatically, but requires a different mindset for managing cows."
Do you use ultrasounds to help boost reproduction rates on your farm? Tell us all about it!