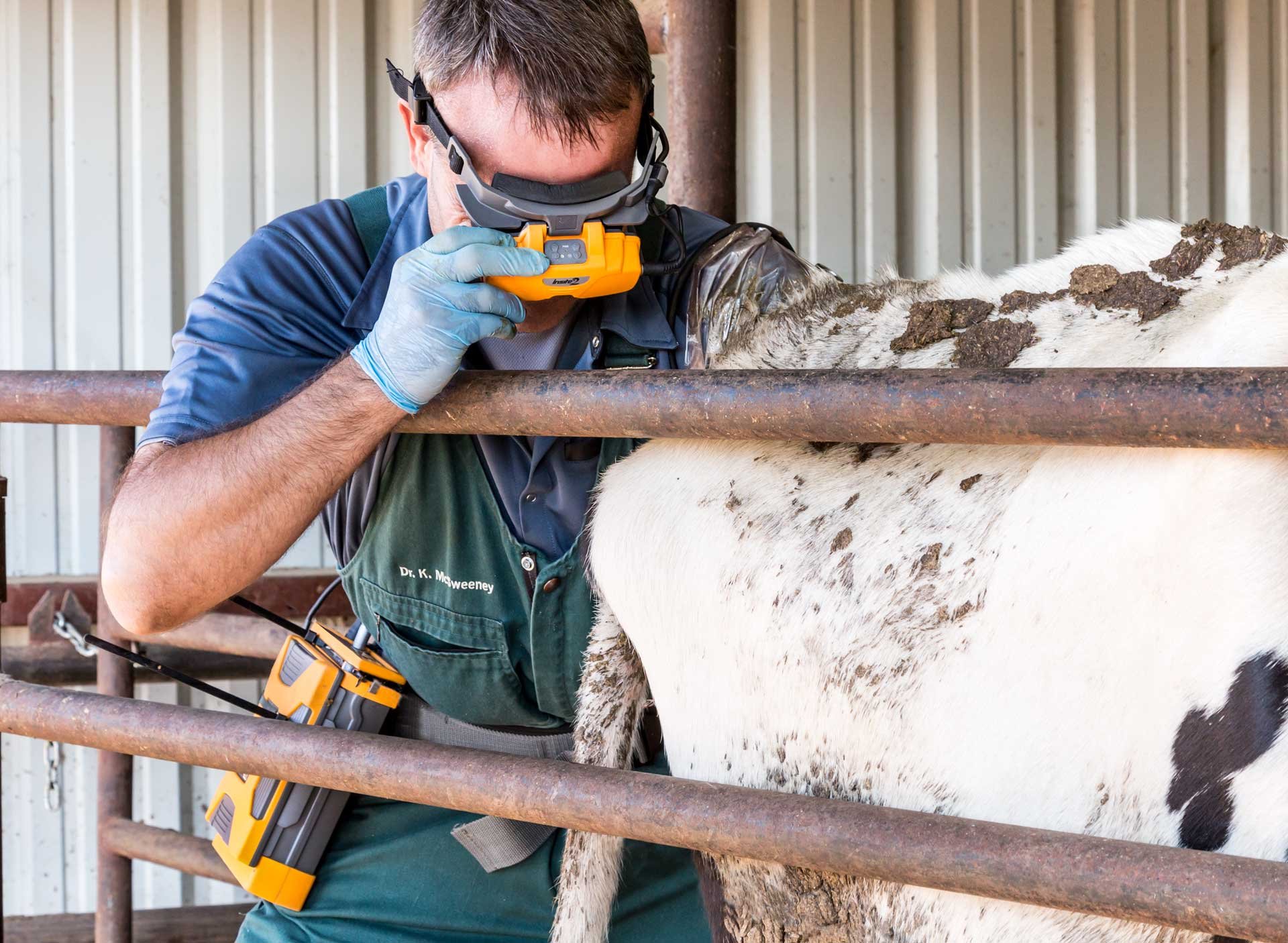 Discovery of rectal palpation to distinguish features and structures of the female reproductive tract dates back to the 1800's.
Since then, there has been widespread adoption of this technique as a reproductive tool in the veterinary field to determine various aspects of the cow's reproductive status. Such aspects pertaining to palpation include uterine manipulation for determining pregnancy status, palpation of ovaries for presence of ovarian structures (i.e. corpus luteum and follicles), and diagnosis of reproductive abnormalities such as abscesses, adhesions, ovarian cysts, etc…
Rectal palpation remained the only reproductive management tool for bovine practitioners until the mid 1980's when ultrasound was first used by researchers to aid in early embryo transfer experiments.
As many of us know, accurately diagnosing the open cow in a herd in the least amount of time after breeding and applying a rebreeding strategy or culling remains a key factor for success in any reproductive program.
Ultrasound creates a visual image of viable embryos with a heartbeat as early as 26 days. While experienced palpators claim able to diagnose pregnancy in the early 30's, their only indicator of pregnancy is small amounts of fluid within the uterus. This is a key area for mistakes, resulting in improper diagnosis of both pregnant and open cows, which can increase days open and calving intervals. Ultrasonography when used properly is also a much less invasive process to the animal compared to rectal palpation.
Image: 23 Day Bovine Embryo
This becomes extremely important because early pregnancy diagnosis (28 to 42 days) is also the time period when the embryo is in a vulnerable environment and any rough manipulation of the uterus as a result of palpation can result in abortions or a deformed fetus (calves born without an anus or complete intestinal tracts). Ultrasound utilizes very slight movements with the transducer to see the embryo without affecting the environment of the embryo greatly. Experiments have found an increase in embryonic loss associated with rectal palpation conducted early in gestation, and research conducted by Jack Whittier at Colorado State showed an increase in fetal loss attributed to palpation compared to ultrasonography in beef heifers.
With the majority of pregnancy losses occurring in the first 60 days of gestation, a recent dead fetus can remain within the uterus along with fluid that still mimics a viable pregnancy. Ultrasonography can accurately pinpoint a dying fetus or one that has recently died, which can then efficiently aid to resynchronize the animal in the reproductive program. Rectal palpation is unable to identify these fetuses because palpators cannot see the fetus. Also, uterine infections such as pyometras create a barrier for successful conception, and can go undetected with rectal palpation. However, when incorporating ultrasonography into the reproductive management, pyometras and other uterine infections can be easily detected.
Image: Dead Bovine Fetus
Another benefit of ultrasound examination not available with rectal palpation is the capability to determine the sex of the fetus after 60 days in gestation. For many producers, the ability to market heifers carrying females creates an advantage to producers to sell their heifers at a premium to operations that are looking for replacement animals or to expand their herd. Ultrasonography is also more effective than palpation to diagnose cows carrying twins, and staging the age of fetuses in bullpen situations. Image: Bull Calf
While successful reproductive management programs remain an essential factor for efficiency of any cow operation, the incorporation of ultrasonography within breeding programs has not been widespread. When reproductive ultrasounds became available many bovine practitioners were reluctant to adopt the technology due to the high cost and poor mobility of these early models. However, development of more durable, mobile machines along with decreased costs have made use of ultrasonography much more practical. With the constant increase in feed costs and variable milk prices, it is critical for a dairy to maximize reproductive performance while minimizing costs. Ultrasound is a tool that accomplishes both of these things, and helps create a much more efficiently run operation.
You may also be interested in our article, The Mummy,
For more information on premium barn-tough veterinary ultrasound, contact us!
Original article written by Ryan Giles