IBEX® EVO® II
The next generation of our flagship model, EVO® II offers: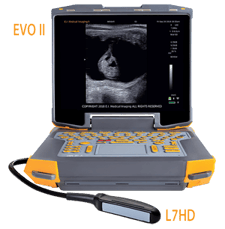 3x brighter display—a NIT rating of 1200 [original EVO® has a NIT rating 400].
The EVO® II supports the new L7HD transducer [see below].
Version 2.0 firmware—improved image quality and feature set.
EVO® II is the latest, most advanced model in the Ibex® family, with significantly better image resolution, color-flow Doppler, remote control, improved features and remote image-viewing apps. The EVO® II is ideal for equine and bovine practices, companion animal practices, zoos, and anyone demanding a high-quality image in a robust system.