written by: Susan Hoffman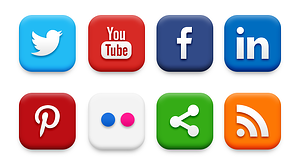 Did you know?
In a recent AAEP survey, respondents say veterinary social media and veterinary social networking are becoming more important for their business.

Veterinarians who integrate social media into their marketing strategy see an uptick on new business leads and retain customer loyalty more than those who do not.
Veterinary social media marketing is different than traditional marketing in that it allows your practice to interact with your customers and peers in a very versatile and timely way. And it's so easy to do! But before you take advantage of social media platforms like Blogs, Facebook, LinkedIn and Twitter, you should keep in mind a few important social media do's for rolling out and maintaining your veterinary social networking plans. These tips can be done to increase and optimize your social media marketing plan.
DO: Use the same logo, colors and imagery for your veterinary social media accounts as you do for your other marketing materials. Branding is important in social media as it is in any other part of your business plans.
DO: Post updates that engage your customers and peers. Ask and answer questions, invite comment and share compelling information. For example, foaling season is ripe for starting an equine ultrasound e-discussion thread.
DO: Vary your content so people don't think you're a one-trick-pony, unless your practice is based on a specific veterinary discipline like performing equine ultrasounds. Topics can display your breadth of knowledge and/or vary with seasonal issues like summer eczema.
DO: Share relevant articles, blogs and links that take readers from your website to your veterinary social networking accounts and vice versa, but don't embed links that redirect readers away from your business.
DO: A quality check on your images, spelling and grammar. It's one thing for your personal Facebook page to show a fuzzy photo or have a typo, but veterinary social media is a reflection on your practice and your professionalism.
DO: Keep your feedback professional. For example, if a naysayer inputs negative remarks about an equine ultrasound exam you performed, respond with, "Based on our experience and training…" versus "And you got your DVM from where???"
DO: Practice social networking's number one rule—maintain your accounts with regular updates. Frequent postings are a social media do because that's the whole point of social networking. At the same time, don't overdo frequency if you have nothing new or relevant to offer your audience.
DO: Be consistent in your content. If you consistently provide quality content at a certain time and in a certain place, your followers will become accustomed to your schedule and will be always ready and waiting for the next blog post, the next Facebook update and will be more apt to read and engage in the post.
DO: Be helpful in the information you provide. Sure you can put up that picture of the cute foal once in a while to attract the warm fuzzy feelings, but provide quality content with information valuable to your clients and they will in turn be a loyal follower of your social network.
DO: Find the influential people in your industry and engage them on their social networks. You can find us on most of the social networks and we would love to engage with you!
If you're like most busy doctors, the job of managing your veterinary social networking program will be delegated to one of your practice's administrative assistants. Encourage them to seek out expert advice about social media do's (and don'ts) on the Internet or in self-help textbooks before creating your social networking presence. Having a little knowledge before you jump in and begin a program will payoff in the end.
As always, E.I. Medical Imaging is here to help our veterinarian customers with many ways they can increase their bottom line and to make their practice better. We would love to offer you a chance to see how our products and accessories can increase your bottom line and how we can make your practice better! Schedule a demo or contact us today!