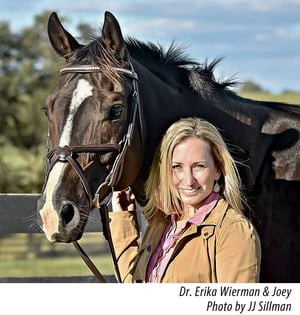 For the last nine years, I've been proud to work for E.I. Medical Imaging. I'm proud of the tiny but innovative staff that we employ. I'm proud of our dedication to our customers and our investment in developing new and cutting-edge technologies from our small facility in Colorado. I'm proud that we've kept the vast majority of our design and manufacturing in the U.S. when it would have been so much easier to outsource everything. I'm proud of the name that we've made for ourselves by responding to our customers' needs over our 30-some years in the veterinary ultrasound industry.
But today, while we as a global community face a new challenge in the wake of the COVID-19 pandemic, I wanted to take a minute and let you know how proud we are of you. Our customer base is made up of animal health experts whose expertise serves us all during this crisis, and many of you are working tirelessly to mitigate the effects of the virus while much of the world retreats into a necessary hibernation.
To my veterinary peers: you are among the most educated individuals in terms of epidemiology, zoonoses, and comparative medicine. You're trained in "herd health" and understand communicable disease transmission in a way that few others do. Thank you for your knowledge, influence, and dedication to global health. It's my belief that you will continue to educate those around you in the ways that they might help to protect themselves and those around them.
To those of you working in agriculture and food production: you've never really gotten the credit that you deserve. During this chaotic time, the safety and preservation of our food supply is among the highest of priorities, and we owe you our deepest gratitude for your endless hard work and tireless commitment to good nutrition and compassionate animal husbandry.
Finally, to our friends in academia and research: regardless of your area of study, you are making the world a better, more conscientious, and healthier place to exist. The work you do on a daily basis is an example of centuries' worth of investigating that has resulted in an improved understanding of our natural world. Thank you for devoting your careers to this expansion of knowledge so that we may continue to have armor for this and future battles.
We are truly honored to serve such remarkable customers in this industry. Please know that we support you always, and never hesitate to reach out if we can be of service to you.
Wishing you peace and health,
Erika Wierman, DVM
Staff Veterinarian, EIMI