Since we released our PRO/r and SuperLite in 2018, many existing PRO and LITE users have taken advantage of our Retool to Upgrade program, allowing them to breathe new life into an out-of-warranty ultrasound.
Now, at the end of 2020, we offer additional retooling options—the PRO/c and SuperLite/c. Step up to improved image quality and a new warranty while taking advantage of the end-of-the-year Section 179 deduction!
We take the main board, keyboard, screen and track ball [PRO] from your existing system, replace the case and battery, add new parts, and hardwire either the high-definition L7HD or CLi4HD probe [your choice]. When complete, you have a new IBEX PRO/r, PRO/c, SuperLite or SuperLite/c with a new 3-year warranty [including probe] for much less than purchasing new.
If you need a costly repair to an older, out-of-warranty system, it makes sense to upgrade now...updated technology and improved image quality with a new battery and warranty.

You will also be able to upgrade existing goggles to the InSite®3 [i3] or brand new i3 LED goggles. We are offering trade-in discounts for any working InSite®2 when purchased alone or when you upgrade a unit and headset at the same time.
We are here to answer any questions that you have about upgrading your PRO or LITE to our latest technology...
And here's a helpful link on claiming your Section 179 deduction this year...make sure to consult your accountant for specific instructions.
Click here for more information on retooling to upgrade. For more information, complete this form or call us at 1.866.365.6596.
---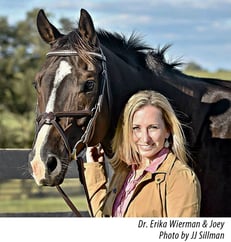 Dr. Wierman is Staff Veterinarian
and Director of Education for
E.I. Medical Imaging.
Follow Dr. Wierman on
Instagram @Dr.Wierman