With our next generation EVO® II and FASTVet™, you can be using ultrasound EVERY DAY in your companion animal practice!
With FASTVet™ techniques, you don't need to be an expert sonographer to assess and monitor your patients. These are standardized, goal-directed exams that any veterinarian can easily learn and implement. Built-in procedural videos provide immediate assistance in performing FASTVet™ protocols. And in emergencies, no other tool offers such unparalleled, exigent diagnostic assistance.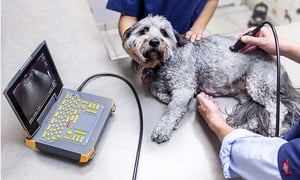 FASTVet™ techniques do not replace complete abdominal ultrasound and echocardiography but are additional ultrasound procedures to quickly assess your patients as part of routine or emergency exams.
FASTVet™ protocols are valuable for patient care in general practice, emergency practice and specialty practice (all disciplines). You can learn these techniques quickly and use them in your practice EVERY DAY.
With EVO® II and FASTVet™ you can:
Evaluate fluid score and volume status in trauma patients
Monitor changes in geriatric patients and those with chronic disease
Screen for hereditary conditions in predisposed breeds
Identify neoplasia, uroliths, and other anomalies in the ADR patient without an exploratory celiotomy
Screen preoperative patients
Monitor cardiac patients and identify pulmonary changes
Perform other, routine preventative exams
For more information on EVO®

II with FASTVet™ for your practice, go to http://www.eimedical.com/fastvet.

Return on Investment [ROI]
EVO® II with FASTVet™ is not only a winning combination for your patients, but can also quickly impact your practice's bottom line. To see a sample ROI calculator, click here...
For more information, contact us at 866.365.6596 or info@eimedical.com.