Did you know that you can add wireless streaming to any one of the IBEX® PRO or LITE models? This is a great tool for sharing your image in real time with clients, students, and trainees!
Sharing your live scan to a mobile device can offer many benefits, including:
Allowing your clients to view the ultrasound image from a safe distance
Teaching in an academic or field setting
Training a new associate or employee
Working in a team setting where only the operator would normally see the image, such as in a zoo, wildlife, research, or aquatic scenario
Fortunately, all current E.I. Medical ultrasound models can support live streaming.
The EVO models have built-in WiFi capabilities. The EVO can connect to your local wifi network or create a hotspot of its own in the event that you are working somewhere that doesn't have wifi available. Our free EVOStream app will support up to four devices at a time.
To add streaming capability to the IBEX platform, including the various iterations of the IBEX PRO and LITE, we offer an optional wifi transmitter that can be plugged in to the power/goggle port. This simple device streams to the free third-party WIFIAV-HD app.

If the app on a mobile device will not be the primary viewing method, a splitter is also required in order to plug in both the transmitter and a headset simultaneously
On the IBEX PRO family, just as with goggle headsets, the screen must be closed in order to power the transmitter
To find out more about our WiFi transmitter for the PRO or LITE family of veterinary ultrasound machines, call us at 1.866.365.6596 or email us and someone will get back to you quickly.
You can view this and other tutorials on our EIMI University Youtube channel.
As always, please let us know how we can be of assistance to you. Go to www.eimedical.com/get-info or call us at 1.866.365.6596 for more information or to request a free demo, in-person or remote!
---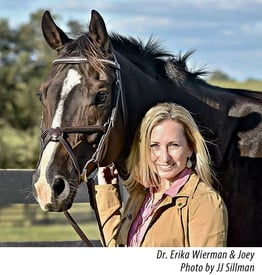 Dr. Wierman is Staff Veterinarian
and Director of Education for
E.I. Medical Imaging
Follow Dr. Wierman on
Instagram @Dr.Wierman